Remember 'Ratchet & Clank'? They're Getting a Movie!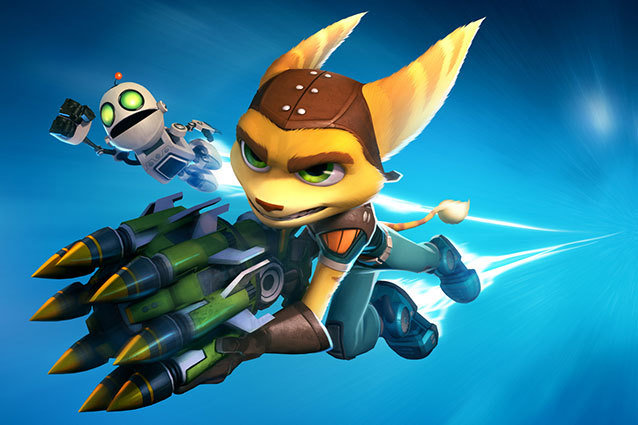 While Mario and Luigi blew their shot at a decent movie back in '93, Sonic the Hedgehog capped at a brief cameo in Wreck-It Ralph, and Donkey Kong had that straight-to-VHS flick that you were always a bit too embarrassed to rent, there are a few lesser known video game heroes who look to be earning the cinematic spotlight.
Playstation junkies might recall Ratchet & Clank, the lombax-and-robot duo who sought to defend various galaxies from the clutches of the nefarious Chairman Drek. The Sony title, which features the voice talents of James A. Taylor, David Kaye, and Jim Ward (who delivers the innocuous oaf Captain Qwark), is being developed as a big screen feature by Rainmaker Entertainment and Blockade Entertainment.
The below video, in which a bumbling Qwark attempts to hog the spotlight from his far more heroic (yet also far more diminutive) titular companions, announces the news of a Ratchet & Clank movie… one that appears to be pleaing for all of the 3D, impressive CGI, and dubstep that can be packed into a 90 minute film:
While it's true that the Ratchet and his mechanical sidekick Clank might not rank among the superpowered video game names of Mario, Sonic, Link, or Fox McCloud, the 2002 franchise did spawn a pretty devoted fanbase  — one that is sure to be excited over a feature adaptation, especially one staying faithful to the characters with their established voice cast. Variety reports that animator and cinematographer Jericca Cleland has been brought on to direct, with Insomniac Games writer TJ Fixman handling the script.
Follow Michael Arbeiter on Twitter @MichaelArbeiter
More:
Big Boi and B.O.B. Talk About Getting Mo-Capped for 'Army of Two' Video Game
'Mortal Kombat: Legacy' Web Series Returns with Season 2
Dreaming Up Absurd Video Game Adaptations
---
From Our Partners:


Eva Longoria Bikinis on Spring Break (Celebuzz)


33 Child Stars: Where Are They Now? (Celebuzz)