Ravi Shankar: An Aural History of His Astonishing Work in Movies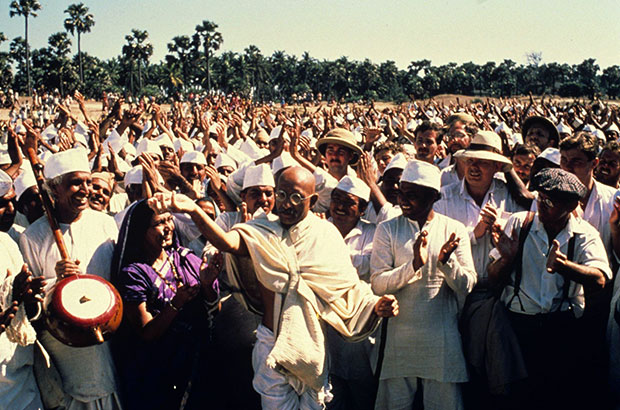 Late Tuesday night, world-renowned sitar player Ravi Shankar passed away at the age of 92. The award-winning artist made a major impact on the world of music, recording dozens of records as well as performing across the globe for audiences of every kind. But his influence didn't stop there: Shankar's music also found its way into the visual mediums of film and television.
In tribute, here are a few of Shankar's notable works:
Gandhi – "Discovery of India"
Shankar's most notable film work earned him an Academy Award nomination for Best Score. The musician teamed with director Richard Attenborough on his 1982 historical drama. The music was both culturally in tune with the location of the film and the gravity of Gandhi's incredible actions.
Satyajit Ray's Pather Panchali (Song of the Little Road)
Few Indian directors have crossed over into the eyes of American cineastes like Satyajit Ray — find all the proof you need in Wes Anderson's The Darjeeling Limited, which takes many cues from the works of the filmmaker. Shankar composed music for Ray's "Apu Trilogy," which includes the highly regarded Pather Panchali and this snippet of sitar brilliance.
A Chairy Tale
While Shankar earned an Oscar nomination for Gandhi, he also helped carry another movie to the Academy Awards: 1957's A Chairy Tale. The short pixilation (stop-motion with living actors) film was nominated for the Best Short Subject – Live Action Academy Award and sports a playful score by the late musician.
Monterey Pop
D. A. Pennebaker captured the Monterey International Pop Festival in June of 1967 with a raw, vérité style, depicting up-and-comers like Jimi Hendrix, Janis Joplin, Simon and Garfunkel, and The Who in the early days of their careers. Among those stars was Ravi Shankar, who impresses even among the rock n' roll greats.
Raga: A Film Journey to the Soul of India
Director Howard Worth followed Shankar around India for his 1971 film Raga: A Film Journey to the Soul of India, which peers deep into Shankar's influences (he started his career as a dancer) along with featuring meditations from the artist as well as (not surprisingly) stunning musical performances.
George Harrison: Living in the Material World
Martin Scorsese's all-encompassing documentary on the former Beatle included Harrison waxing poetically on many close subjects, but few as important as his music-infused friendship with Shankar. In this clip, Harrison declares that the sitarist was the only person who ever impressed him.
Follow Matt Patches on Twitter @misterpatches
[Photo Credit: Columbia Pictures]
More:
The Best and Worst TV Episodes of 2012 — Staff Picks
Staff Picks: The 14 Best Songs of 2012

11 Worst Movies of 2012! (Moviefone)