Real Housewives in Real Life: A Chat About 'The Queen of Versailles'
For anyone who has ever watched an episode of any of the Real Housewives franchise, they know that the program is supposed to be about rich ladies, all of their things, and how they attain wealth. Well, those things…and throwing drinks at anyone who dares call you phony. Sure, some of these fake-titted blondes are dealing with bankruptcy, unemployment, and spouses who can't pay child support, but they still do it from the inside of their onyx McMansions, hiding the moral and financial poverty behind a facade of bling. So what happens when you have the realest Real Housewife of all? And what happens when she loses everything, including the biggest house in America? 
That's the question that director Lauren Greenfield asks in her new documentary The Queen of Versailles. The movie follows Jackie Siegel and her husband David Siegel, owner of Westgate, who made his fortune selling time shares mostly to working class and middle class families, as they build the largest single home in America.
When we first meet Jackie she's exactly out of Real Housewives central casting: she likes small dogs, dresses her twins in matching outfits, and has an unhealthy penchant for low-cut tops and animal prints. She has eight children with Siegel and the two of them were building a 90,000 square foot replication of the palace at Versailles for their family outside Orlando. It is all marble, antiques, taxidermy, and the sort of things that even a Real Housewife might find gaudy. But at the center of it all is Jackie, who Greenfield first met at a party in Miami when she was shooting Donatella Versace.
"Jackie is a charismatic character," Greenfield says of the woman from blue collar upstate New York who worked as a model and was Mrs. Florida before marrying Siegel. "In a way, she's full of contradictions, even though she lives this kind of fantasy life of jets and castles, and she also has a kind of down-to-earth quality and a generosity of spirit and an openness, and was willing to share her life."
The funny thing is, as Jackie and David shared their lives with the camera starting in 2008, when America was still riding high on the real estate bubble, their lives started to change. When the economy crashed, mostly due to junk mortgages, it turns out that David's company was running mostly on junk mortgages. As their fortunes decreased, Versailles was put on the market half-finished and the once flush couple had to struggle with life without the countless maids, nannies, and staff members. Their once glitzy house was now covered in dog turds and Jackie tells the camera that she never would have had so many children if she didn't think she'd have the staff to care for them all.
For any Real Housewives fan, it seems like we're finally getting our revenge and the rich are getting their due. But Greenfield never intended the movie to be akin to reality television.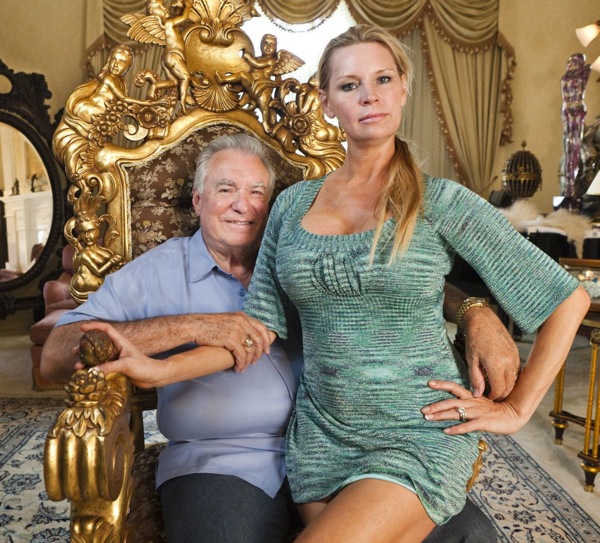 "I don't really watch much TV," she says. "I'm really interested in our cultural obsession with wealth, and I put reality TV into that category. I do watch a lot of Keeping Up with the Kardashians at the gym, and I'm fascinated by the way we sensationalize and idealize wealth. In a way, that is one of the reasons I wanted to start [this movie], to show wealth in a different way, to show it in a real way, in cinema verity way, not a constructed 'Isn't life wonderful?' totally fake way."
The film is going to get a chance to shed some light on that fake world of perceived wealth. Bravo, the home of the Real Housewives and other big-house-glorifying shows like Million Dollar Listing, has purchased the TV rights to air Queen of Versailles. "I think it's so great," Greenfield says about the acquisition. "It's not preaching to the converted in the art house, it's regular people who love watching these people all the time, this kind of person, and then to get to peel back the onion and see a real life. For me, it's really about what the implications of our obsession with wealth and consumerism are. And I think that part of the reason we're so interested in more and more stuff is because of the influence of popular culture, and I put reality TV and advertising in that group."
But it's not all champagne riches and caviar dreams for Greenfield. She, Bravo, Magnolia Pictures, and others are facing a lawsuit from David Siegel himself, who doesn't like the way the movie ends. Greenfield says he wants it to end with him being triumphant and returning back to his riches. Instead, it ends with his company facing bankruptcy, his current house in disarray, and his dream house half-built and decaying, his dream of seeing the fireworks at Disney World through his window nothing but a fantasy that the audience sees, but he never will. It's like the tragedy that is lurking below the surface of every episode of Real Housewives, but it's a tragedy that Greenfield brings right up to the surface and makes it relatable for the audience, no matter how big their house.
If it says anything about where Jackie stands, she's helping Greenfield promote the movie and just appeared on the Today show to get people out to the theater this weekend. Oh, and she's interested in being in Real Housewives. I'd expect nothing less.
Follow Brian Moylan on Twitter @BrianJMoylan
[Photo credit: Magnolia Pictures]
More:
Sundance 2012: 'Queen of Versailles' Is the Ultimate 'Real Housewives' Tale
Summer Movie Alternatives: It's Not Just Comic Book Action Blockbusters