5 Real Life 'This Is Spinal Tap' Documentaries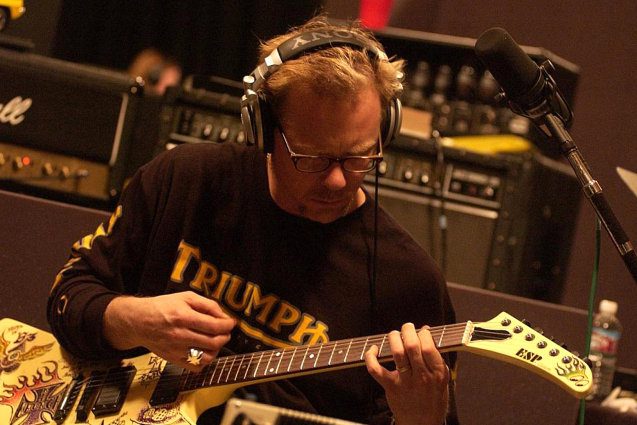 Paramount Pictures
An inspired parody of the decadent world of '80s heavy metal, This Is Spinal Tap was said to have been so realistic that many of the artists it pilloried failed to see any humor in the amplifiers that turned up to eleven, the preposterous song titles ("Lick My Love Pump") and the labyrinth of backstage corridors. Indeed, displaying a staggering lack of self-awareness, several bands have since made the fictional rockers' absurd antics appear positively normal whilst filming their own real-life music documentaries. Here's a look at five which you'd struggle to believe if they were scripted.
Sadly, the moment when U2 became stuck inside the giant lemon prop on the Popmart tour never made it to celluloid. But following in the footsteps of Spinal Tap, their visit to Graceland during their po-faced companion piece to their 1988 album did.
Robbie Williams' guitarist Fil Eisler even namechecks Spinal Tap during this fly-on-the-wall look at the former Take That star's 2001 European tour after a cock-up leaves the band trapped behind the curtains. Meanwhile, a crazed stage invader and a surreal conversation about the correct height of a table and chairs adds to the whole ridiculousness.
Following on from the whole Napster debacle, thrash metal legends Metallica continued to tarnish their reputation with this unintentionally hilarious account of their behind-the-scenes troubles and their $40,000-a-month therapy sessions in particular.
Seething with jealousy over his underground 'soulmates' The Dandy Warhols' rise to major label success, The Brian Jonestown Massacre frontman Anton Newcombe completely self-destructed in this compelling love/hate tale, culminating in a comical industry showcase where he instructed bouncers to beat up the audience.
Unlike the more famous examples on the list, forgotten Canadian metalheads Anvil came off as utterly charming as they desperately tried to keep the dream alive 30 years into their career. But it didn't make the scenes where they were paid in goulash or performed to 174 people in a 10,000 seater arena any less funny.
More
5 Underrated Woody Allen Movies
Top 10 Sports Movie Quotes Of All Time
5 Unbelievable Martin Scorsese Oscar Snubs

---
From Our Partners:


40 Most Revealing See-Through Red Carpet Looks (Vh1)


15 Stars Share Secrets of their Sex Lives (Celebuzz)