Really Bad Movies: 'Speed'
In 1994, a mid-range action flick starring Keanu Reeves and Sandra Bullock swept over the summer box office (as well as our hearts), raking in a staggering $350 million. Nearly 20 years later, it's still hard to think what drew such a vast number of people to see a film about an out-of-control speeding bus. Was it the bland expressions Keanu passed off as acting? The rock 'em sock 'em edge-of-your-seat storyline? Or perhaps audiences were merely bowled over by Dennis Hopper's incessant use of the word "wildcat?" No matter what your reasoning, Speed is one of those incredibly bad movies you can still watch over and over and over again… if only just to laugh at it.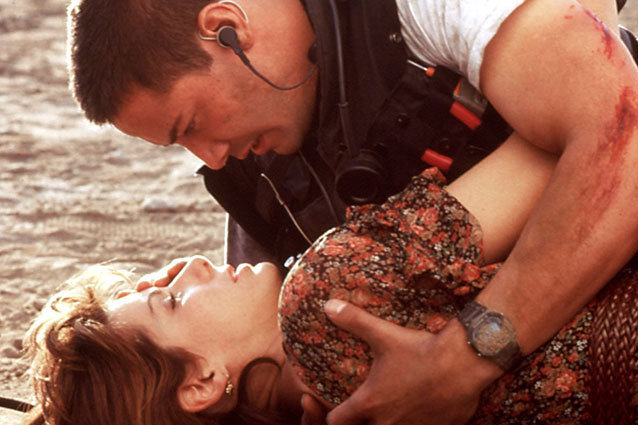 MGM/Everett Collection
50 mph or the Bus Explodes… Oh My!
As anyone who's ever lived in LA can tell you, driving here really, really sucks. In fact, you'd be hard-pressed to break 20 mph during rush hour traffic, let alone 50. Still, ever the wily one, Keanu pulled it off without ever breaking a sweat. Now that's talent.
Call Me Crazy, Or Just Dennis Hopper
There are few action movie villains as memorable as Dennis Hopper's maniacal Payne, a disgruntled former cop who vows to take his bitterness out on the rest of society for being unjustly forced into retirement. Simply put – the dude decides to blow up a bus. There's just one man standing in his way…
Pop Quiz Hot Shot: Why Did He Take This Job Again?
He's a damn good cop, that's why! Movies love to pluck the right men for the right job in the exact right situation as their heroes. And for this particular movie, there was none better than Keanu Reeves. He may have looked dumb (and even felt dumber) but this dude was always one step ahead of everyone. It's probably why the actor playing him refused to star in the widely anticipated sequel. Genius!
I May Look Pretty, But I'm Also Funny
The city of Los Angeles needed a wisecracking speedster like Sandra Bullock's Annie. She not only managed to effortlessly maneuver a hulking 40-foot-long vehicle through numerous twists and turns – saving all of the bus occupants in the process – but she made us laugh with several perfectly timed quips. She also made it a point to tell annoying tourists that she had gum on her seat…GUM!
Speed On Water?
Yes, there was a sequel and yes it's available on DVD. If you have ninety minutes of to spare (none of which you'll ever get back) then give it a watch. You'll feel better about where your life is headed. Or on second thought, maybe worse.
More:
A Calm Look at the Angriest Men In Hollywood
J.J. Abrams Messes With Our Heads
Movies Like 'One Direction: This Is Us' Must Stop
---
From Our Partners:


40 Most Revealing See-Through Red Carpet Looks (Vh1)


15 Stars Share Secrets of their Sex Lives (Celebuzz)