Rebel Wilson to Host the 2013 MTV Movie Awards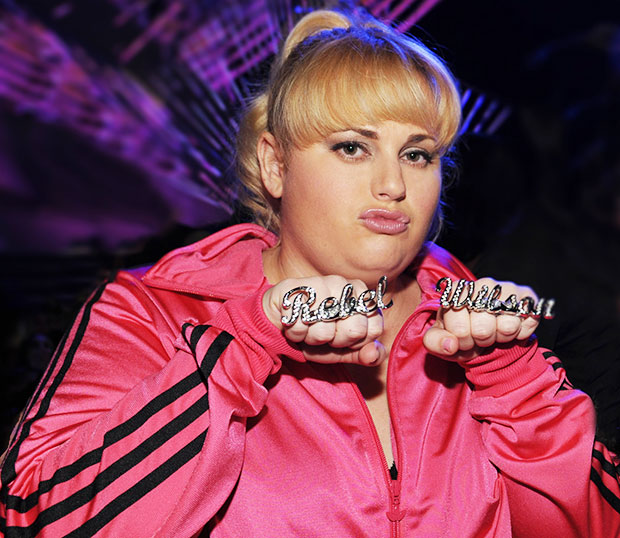 Rebel Wilson has officially gone from sidekick to main event. The 26-year-old Australian actress — who broke out in 2011 as Kristen Wiig's freeloading, tattooed roommate in Bridesmaids and had moviegoers singing her praises for her hilarious supporting performance as Fat Amy in 2012's cult hit Pitch Perfect — has been announced as the host of the 2013 MTV Movie Awards. Wilson tweeted, "Uh huh, secret's out, I'm starring in the MTV Movie Awards in 2013 xx." The news comes just one day after it was reported that a Pitch Perfect sequel is on the horizon.
Wilson, who is known for her self-effacing humor and her memorable talk show appearances, will become the 24th celebrity to host in the award show's 21-year history. Prior hosts include the totally random likes of Lindsay Lohan, Samuel L. Jackson, Sarah Jessica Parker, Will Smith, and Jessica Alba. But, in more recent history MTV has opted for more traditionally funny folks like Sarah Silverman, Jason Sudeikis, Aziz Ansari, Andy Samberg and two-time hosts Jimmy Fallon and Mike Meyers.
While it's a pretty safe assumption that the Pitch Perfect funny lady will break out into song and dance during her monologue, will she rely on her musical talents alone as her routine? Or will she finally get to test out her stand-up material on American audiences largely unfamiliar with anything beyond her movie performances? A stand-up act worked to the benefit of Ansari and Silverman during their hosting gigs (though it backfired, twice, on VMA host/acquired taste Russell Brand) and it certainly worked for Zach Galifianakis — who has had a similar career trajectory to Wilson — when he helmed SNL in 2011. Judging from the first teaser trailer, Wilson will also rely on her plus-size schtick, as she chomps on a candy bar while being held hostage by thugs (one of which is played by her Bridesmaids co-star and real-life pal Matt Lucas). Watch:
The MTV Movie Awards, hosted by Rebel Wilson, will air live on MTV on April 13, 2013 at 9 PM ET.
[Photo Credit: John Shearer/MTV]
More: 
Pitch Perfect 2′? Rebel Wilson and Her Costars Share Their Ideas for an Aca-Sequel
Rebel Wilson and Adam DeVine Plan the Sexy Sequel to 'Pitch Perfect'
'Pitch Perfect: Why 'Glee' Fans Should Give It a Chance
You Might Also Like:

20 Hot (and Horrifying) Movie Sex Scenes