Red Band 'I Melt with You' Poster Inspires Much Curiosity
The red band trailer for I Melt with You defines the term "excess." In it, four men are seen doing inordinate amounts of drugs, partying without rest, betraying their wives and families, and embracing torrentially reckless behavior. More than this, the trailer itself does one thing to excess: it inspires curiosity.
I Melt with You is the story of four middle-aged men whose friendship dates back to college. For one week every year, the men take breaks from their ordinary lives as family men, school teachers, professionals, et al, to spend time together in a beach house and completely abandon every attachment they have. The men are seen snorting huge sums of cocaine and speeding down a highway (an empty highway, but still), partying with much, much younger girls, and more of the like.
But this is not a wild, madcap comedy. A dark turn takes the trailer when a collective note comprised by the boys twenty-five years earlier resurfaces, inciting a great deal of anguish in each of them. The trailer does not reveal the contents, or even much of the nature, of the note…but we know it's one of controversy. Some of the men seem interested in preserving the note's intention, while some others feel that whatever they had promised to their future selves no longer applies.
It's enough to bring out a tumultuous change in mood for the trailer, and each of the men. The movie looks to really exemplify the pain of these men, whether it comes from a secret from their past, or their attachment to their unhappy lives.
I Melt with You stars Rob Lowe, Thomas Jane, Jeremy Piven and Christian McKay, and is directed by Mark Pellington. (Arlington Road).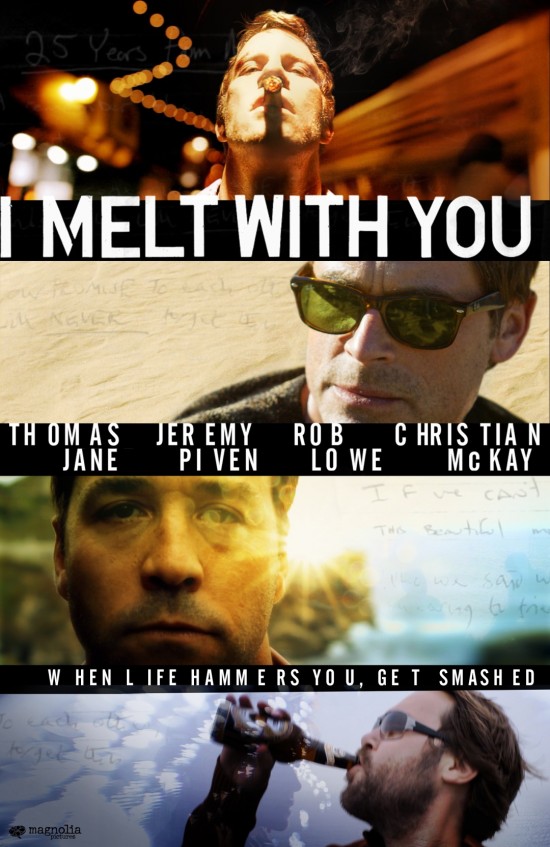 Source: Slashfilm