'Red Dawn': Chris Hemsworth and Josh Hutcherson are the New Wolverines — PICS
Wolverines!
Remember when communism was the American public's biggest fear? When grade school classroom desks were the best preparation the country had against impending nuclear bombs? When a twelve-foot wall in Germany separated the world's two biggest superpowers?
Probably not, considering the fact that headlines including the names Josh Hutcherson and Chris Hemsworth appeal largely to people under the age of twenty-five. But all you fans of that guy from The Hunger Games and the older brother of that other guy from The Hunger Games (or "Thor" for the comic book-inclined) are about to get a big screen lesson in the Cold War experience. The first pictures from the upcoming present-day remake of the 1984 movie Red Dawn have been released by MGM.
Below, you can see young patriots: leader Jed (Hemsworth), his younger brother Matt (Josh Peck), and their pal Robert (Hutcherson), defending their Midwestern American town against invaders from the North Korean military. In '84, these roles were played respectively by Patrick Swayze, C. Thomas Howell, and Charlie Sheen. The second picture shows an armed Hemsworth, fighting the incoming soldiers in the streets of his neighborhood.
So how does the God of Thunder measure up to Road House (or Johnny Castle, if you prefer) as a defender of the American virtue? How about Peeta versus Ponyboy? Or the kid from The Wackness against that dude who went all crazy last year? Check out the pics below and decide.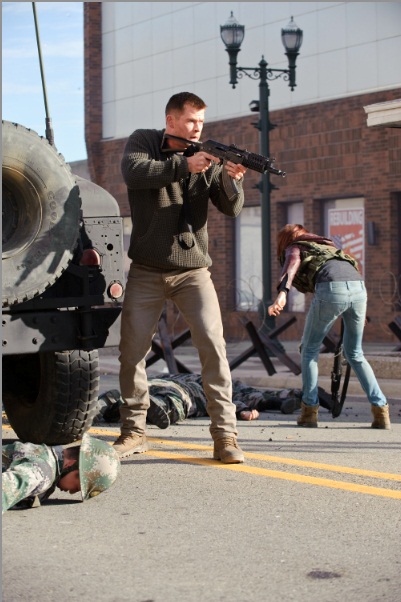 More:
Drew Barrymore Back in Director's Chair for Apocalyptic 'The End'
'Thor: The Dark World' Has a Villain to Take on Chris Hemsworth
'Total Recall' Trailer Mash-Up: Schwarzenegger Meets Farrell — EXCLUSIVE VIDEO