'Red Dawn': Chris Hemsworth Won't Let His Home Town Explode — TRAILER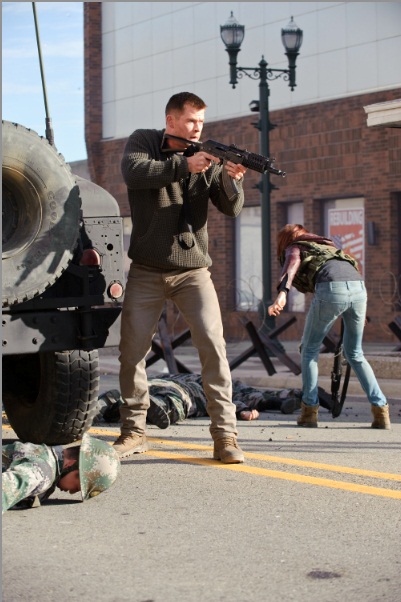 The new trailer for the remake of Red Dawn might maintain the basic plot of the 1984 film, but it seems more intent on upholding the new. The real selling point of this movie doesn't appear to be a revival of a cult classic war flick, but instead the popular stars Chris Hemsworth and, to a lesser degree, Josh Hutcherson. Although the latter does have his share of star power, the trailer lends most of its time to Hemsworth: the brawny, no-nonsense hero of the picture.
Aside from a most likely unintentional connection to Hemsworth's April release The Cabin in the Woods (the family's hideout is highly reminiscent of the horror send-up's setting), the trailer has tailored the role once held by Patrick Swayze to fit the new star. He's no longer a jocky high school student, he's now a full-fledged marine. This changes the sentiment of the story: it's no longer a handful of kids banding together to protect their neighborhood. Now, it's a legitimate soldier leading a war. It's still primarily a motley underdog crew of everymen… but less so.
But will this hurt the movie? If fans want to see a high-stakes action film, then probably not: the explosions, plane crashes and gun-cocks in this trailer outnumber the actors three to one. It doesn't feel like the same hometown cult film; we're dealing with a larger scale, larger budget suburban G.I. Joe. That might be what today's Red Dawn warrants — and it could well be just as entertaining. Just don't expect the same Wolverines we got in '84.
[Photo Credit: MGM]
More:
'Red Dawn': Chris Hemsworth and Josh Hutcherson are the New Wolverines — PICS
Listen, 'ALF' Movie: Gordon Shumway Needs to Be a Puppet