Reese Witherspoon's Male Co-Star Tug of 'War'

When I first heard about This Means War, I was immediately intrigued. A film where Chris Pine AND Tom Hardy are competing against each other to win the love of Reese Witherspoon? What girl doesn't want a bunch of hot guys vying for her affection? And how do you pick between two of the hottest hunks in Hollywood (answer: you don't — you take them both). That scenario got me thinking about all the other different pairings Reese has had throughout her extensive movie career, and I wondered what it would be like to pit some of her past leading men against each one another to see who might win her heart in the end, and why. It's not going to be an easy decision; the Oscar-winner has co-starred with some dreamy guys over the years, but as the great Pat Benatar once said: Love is a Battlefield — and it's time to go to war.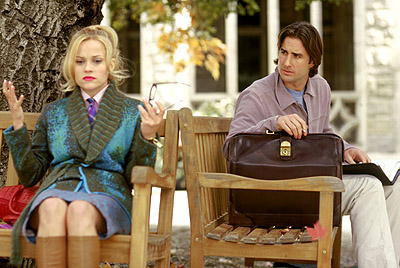 Blood is supposed to be thicker than water, but when a girl is involved all bets are off. Owen and Reese worked together in the rom-com How Do You Know? and while the movie was mediocre at best, their chemistry was anything but. On the other hand, who could forget Luke Wilson playing the lovable lawyer (they do exist) Emmett in Legally Blonde. He was able to turn Elle Wood's attention away from the hunky Warner, so his brother would have some stiff competition on his hands. But after weighing the options, we think Owen would emerge victorious. Luke's definitely a decent guy, but his quieter demeanor would put him at a disadvantage. Girls like a guy with some initiative and Owen seems to be the more outgoing of the two.
Winner: Owen Wilson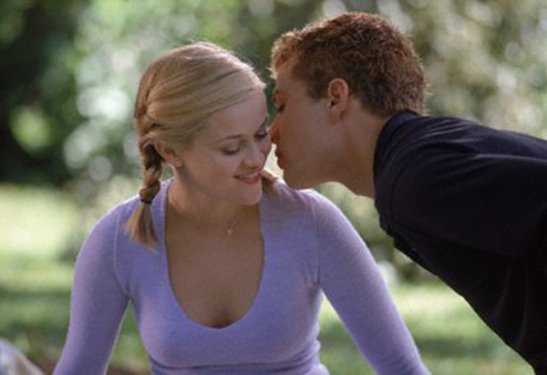 This is a tough one, as Rob and Ryan are probably two of the best-looking co-stars Reese has ever worked with. While her Cruel Intentions co-star could be seen as having a bit of an advantage given their off-screen history together, it's important to note that the relationship ended in divorce, so the odds aren't in his favor. And the last time I checked, RPatz has never had any trouble getting the girl he wants. However, I'm afraid the 10-year age difference between the Water For Elephants co-stars cannot be ignored (she's 35, he's 25). It's not the biggest age gap Hollywood has ever seen, but I don't think RPatz is mature enough to handle the type of relationship Reese would be looking for at this point in time. We're giving this round to the equally hunky father of her children, Mr. Ryan Phillppe.
Winner: Ryan Phillippe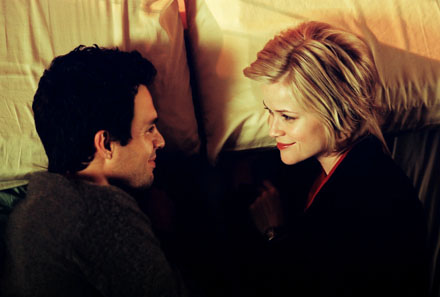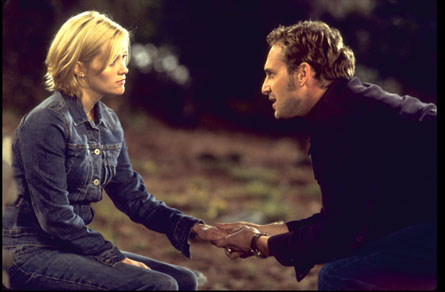 The decisions just don't get any easier. We're now dealing with two completely sweet and adorable guys who starred opposite Reese in two sweet and adorable movies: Just Like Heaven and Sweet Home Alabama. Mark's got the whole boy-next-door thing going on, whereas Josh is a man's man — lean and rugged. Plus, he's got the whole Southern charm thing working in his favor. When push came to shove, we sided with Mark. Why? Because Reese Ruffalo is just too cute a name to pass up. (Sorry, it was a really close call and didn't know how else to choose). If it came down to a duel I feel that Lucas would win, no contest. But it isn't just about a guy's physicality. It's about their dedication to and compatibility with Reese. And for that, Mark has the slight upper hand. His kiss in Just Like Heaven brought Reese's character back to life – that should definitely count for something!
Winner: Mark Ruffalo

This was also a difficult call to make, given that most girls love the funny guy AND the singer. So how do you choose? Ultimately, it came down to the chemistry. Though Vince and Reese shared some hilarious moments together in Four Christmases, I could never really buy them as a legitimate couple (still, it was absolutely adorable to see Reese's petite body next to Vince's towering figure). Joaquin, on the other hand, had a scorching connection with her in Walk the Line. These two managed to believably portray one of the most iconic couples of all time, June Carter and Johnny Cash. It's therefore safe to assume that they would also have fantastic chemistry off-screen as well. Now if only we could do something about that beard of his…
Winner: Joaquin Phoenix