'Resident Evil' kills it at the Box Office!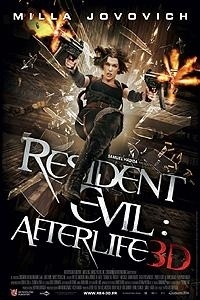 The lowest grossing weekend of the year thus far is led by Sony/Screen Gems' Resident Evil: Afterlife 3D with a franchise high of $27.7 million in 3D and IMAX powered dollars.  Star Milla Jovovich proves that audiences like their action heroes hot, female and tough as nails.  Much like Angelina Jolie as Evelyn Salt in the late-summer blockbuster "Salt," the ass-kicking style of Milla as Alice certainly resonates strongly with audiences looking for an unconventional action star. 
The R-rated franchise has enjoyed enormous success in the September time-frame and this becomes the third number one debut in the post-summer period for Resident Evil.  Sony took perfect advantage of this typically slow post-Labor Day weekend and makes box office lemonade out of lemons with a solid debut that garnered 10% of its weekend gross from the IMAX giant screen digital format and kept the fanboys in cinematic heaven.  
International box office spotlight: Resident Evil: Afterlife took in a massive $45.5 million with Japan leading the charge with $15.455 million, Russia close behind at $9.5 million and Spain with $3.4 million.
Sony is having a great weekend with the number two spot held by Takers with $6.1 million and a domestic cumulative that is closing in on $50 million.  The PG-13 action film has shown incredible staying power since its release and Paul Walker, Chris Brown and the appealing ensemble cast has continued to draw audiences.  
Box Office fun fact: Sony holds four of the Top Ten spots at the box office this weekend with Resident Evil, Takers, The Other Guys and Eat Pray Love.  
Third place goes to George Clooney in last weekend's number one film Focus Features' The American with $5.89 million for the weekend against a 55% drop and a total domestic take to date of $28.3 million.  After battling "Machete" all during the mid-week contest and holding at number one, the film was finally knocked off the top spot by Resident Evil: Afterlife on Friday.
Number four goes to Danny Trejo in Robert Rodriguez's grind-house style action flick Machete with $4.2 million in its second weekend of release and a pretty steep 63% second weekend drop.  The unique action film is now closing in on $21 million in domestic dollars.
Rounding out the top five with a second weekend gross of $3.6 million is Warner Bros.' romantic comedy Going the Distance which stars Drew Barrymore and Justin Long.  A mild 44% drop put the film in the top five and a domestic total to date of $14 million.  The film benefitted from being the only light-hearted film in a top five that was dominated by the genres of action and sci-fi.
The first weekend of the Fall movie season, while down overall from last year, was still a land of opportunity for "Resident Evil: Afterlife" which took full advantage of what is typically one of the lowest grossing weekends of any year.  Next week really heats up some terrific films including Sony's expected box office juggernaut "Easy A" starring Emma Stone and Warner Bros. "The Town" starring and directed by Ben Affleck.  Look out for "Devil" from Universal and Lionsgate's "Alpha and Omega."
Weekend Box Office
Top 10 Movies – Weekend of September 10, 2010 (Estimates)
Movie
Weekend
Total
1
Resident Evil: Afterlife (R)
$27.7 M
$27.7 M
2
Takers (PG-13)
$6.1 M
$48.1 M
3
The American (R)
$5.9 M
$28.3 M
4
Machete (R)
$4.2 M
$20.8 M
5
Going the Distance (R)
$3.8 M
$14.0 M
6
The Other Guys (PG-13)
$3.6 M
$112.7 M
7
The Last Exorcism (PG-13)
$3.5 M
$38.2 M
8
The Expendables (R)
$3.3 M
$98.5 M
9
Inception (PG-13)
$3.0 M
$282.4 M
10
Eat Pray Love (PG-13)
$2.9 M
$74.6 M