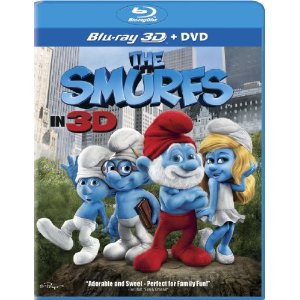 The Smurfs may not be one of the best movies of the year but it's certainly one of 2011's biggest surprises. Born from the same nostalgia cash grab as Chipmunks and Marmaduke director Raja Gosnall made the most of a recognizable property and crafted a heartfelt film with enough laughs for audiences of all ages to enjoy. The combination of Neil Patrick Harris and Jayma Mays' well-meaning couple Hank Azaria's oafish Gargamel and the irresistible naïveté of those little blue dorks sums up to solid children's fare. Seriously I'm as surprised as you are.
And as The Smurfs is a great kids movie the new Blu-ray is an equally enlightening package fitting for the budding movie buff in your family. The disc assembles your usual behind-the-scene features but wisely delivers them with kid-friendly presentation. In "Going Gargamel " Azaria takes us inside the complicated task of bringing a cartoon character to life in a movie that needs as much realistic foundation as possible. Also included are a few choice deleted scenes (sans completed 3D Smurfs) and "Blue-pers"—reanimated scenes showing The Smurfs flubbing their lines. Yes Pixar did the same thing with A Bug's Life but seeing a creative team go the extra step to produce this kind of content brings an additional layer of enjoyment to what could be a throw away extra. Also included is a "Progression Reel" narrated by the special effects team that takes viewers step by step through the digital animation process used in Smurfs. It's pretty technical but again it's digestible enough that I could see a kid with an interest in art being really hooked by it.
The other extras including two commentaries a musical montage (that I assure you will have the children in the room up and moving) and a look back at Peyo and the history of Smurfs are all well and good but the real treat on the disc is a bonus cartoon: The Smurfs' A Christmas Carol. Grouchy Smurf fills the shoes of Scrooge on this mini-adventure that utilizes the film's 3D aesthetic and the classic 2D animated look. Like the feature film The Smurfs' A Christmas Carol wears its heart on its sleeve without relying heavily on pop culture references or cheap gags. As a self-proclaimed connoisseur of Christmas specials The Smurfs entry into the pantheon is inoffensive and sweet something you won't mind having on DVD to pop in whenever the holiday spirit levels are feeling low.
The Smurfs is a light comedy that won't scramble your kids brains into sensory-overloaded mush and the Blu-ray peppers the experience with enough additional content to keep the wee ones interested. If you're looking for a few hours of quiet this holiday season The Smurfs is a safe bet!