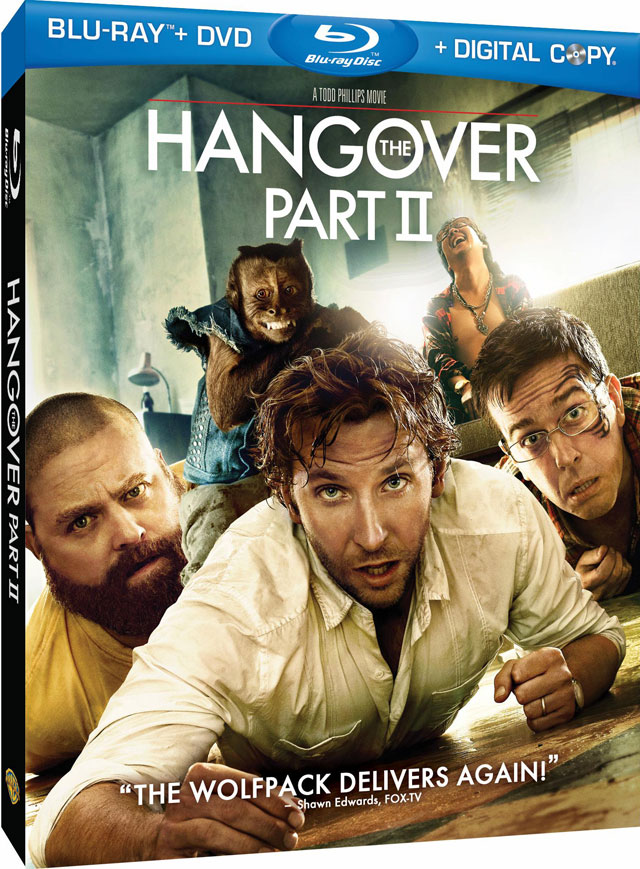 In The Hangover Part II director Todd Phillips takes the drug-and-alcohol-induced depravity of his 2009 original to the next level but leaves his characters and their joint storyline at the starting line. The result is an inane overstuffed and totally derivative sequel without purpose. It's a near-replica of the first film; this time finding our inebriated heroes running amok through Bangkok to find the soon-to-be-brother-in-law of Stu (Ed Helms) whose marriage reputation and life is on the line thanks to another night of debauchery brought on by Alan (Zach Galifianakis). Also in tow as expected are Phil (Bradley Cooper) and Mr. Chow (Ken Jeong) and they're all made significantly more unlikable in the bloated sequel. That coupled with a number of incredibly uncomfortable scenarios (even for an R-rated laffer in this day and age) make the film a real chore to get through.
However Warner Bros. Home Entertainment has given fans and critics of the summer comedy smash an easy-to-digest menu of special features and bonus content in the Blu-ray release of the movie which does a good job of masking the sour taste that the film itself leaves in your mouth. First off and most worthy of note is the "Unauthorized Documentary" that has been created to question what really went down in Thailand during the production of the film. It's "directed" by a struggling filmmaker with a hard-on for series helmer Todd Phillips on a quest for the truth and though it's not really unauthorized by including filmmakers like J.J. Abrams and Morgan Spurlock in the faux tell-all it's given a small sense of legitimacy that makes for some zany comedy. Still if you're looking for more outlandish humor why go looking any further than Mr. Chow himself?
Ken Jeong is at the center of a highly-offensive but infinitely watchable tour of Bangkok featurette and it's as funny as it is short. I actually wish we had more time to tour the country with this pea-brained gangster because I felt that he was one of the only things that the film had going for it. That and a sweet little monkey who nearly stole the show from it's A-list stars. A third bonus feature is devoted to Crystal the Monkey and her effect on the cast and crew of the picture. Believe me when I say that watching how attached she was to Bradley Cooper and vice versa in this little vignette is the best thing about The Hangover Part II Blu-ray.
There's also a little short called "The Comedy Rhythm of Todd Phillips" in which the cast discusses how their generalissimo works a standard gag reel some deleted scenes and an UltraViolet digital copy of the film at your disposal but let's be honest: if you're buying this product you're buying it for the movie. The bonuses are slim but worthwhile to anyone looking for an extra couple of laughs. While I found myself one of the many who was let down by The Hangover Part II there's something for everyone – even the naysayers – on these discs.