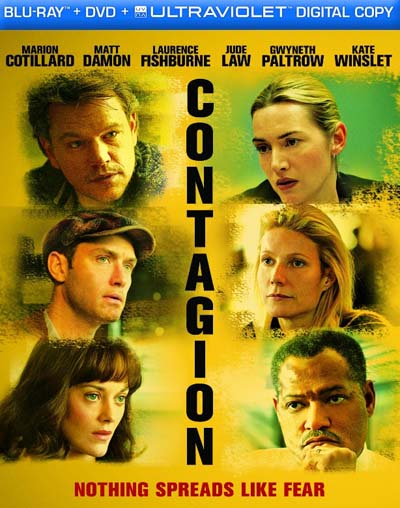 There may not have been a more relevant motion picture released in the past year than Contagion. Warner Bros.' fact-based pandemic thriller comes at a time when our world is bracing for the worst and in an age when we've seen one far-fetched apocalyptic action flick after another director Steven Soderbergh's scientific exploration of nature's greatest weapon plays to our fears with a touch of terrifying realism.
The story which comes courtesy of The Informant!'s Scott Z. Burns is as expansive as the virus itself jumping from one POV charcter and location to the next with each edit. We follow Matt Damon's devoted husband/father whose wife (Gwyneth Paltrow) is the film's "index patient" as he navigates a society on the edge of complete breakdown while Laurence Fishburne and his team of CDC experts – including Kate Winslet and Jennifer Ehle – as well as other parties like Marion Cotillard's World Heath Organization staffer Bryan Cranston's military man and Jude Law's pharmapolitical blogger work to cure contain and cover the epidemic respectively. Every member of the A-list ensemble is genuinely on edge and in-tune with the horrifying scenario. Of particular note is Ehle who flawlessly recites her character's descript dialogue and explicit knowledge of biology with utmost confidence but it's the cast as a whole that really raises the fear factor throughout the movie. And even though the filmmakers wrap their narrative up a bit too neatly for my taste Contagion ends on an explanatory note that both completes the chronicle and suggests the ease with which a population-decimating virus could breakout.
To complement that notion Warner Home Video has packed a few informative extras into the film's Blu-ray release that whether intended or not will probably scare the crap out of you. "The Reality of Contagion" finds the cast producers and technical advisors (who would be the real-life heroes if an outbreak on this scale ever occurred) discussing what the world would be like in the wake of a pandemic and whether or not we're prepared for an international emergency on this level. "The Contagion Detectives" brings you face to face with the real doctors and scientists who research new diseases and how they helped the actors understand the material while "Contagion: How a Virus Changes the World" presents a lighter look at what happens to the economy and society in the midst of a biological disaster. As told through a virtual infographic it's basically a summation of the rest of the bonus material and the film itself.
While Contagion stands out as one of the more affecting films of the year it's home entertainment release doesn't do it any justice. For one thing there's no commentary track and on any Soderbergh picture that's something that I hotly anticipate (especially given his impending "retirement.") Also missing are deleted scenes and production featurettes – something I consider must-haves. The movie looks great in its 1080p HD transfer and Cliff Martinez' subtle electronic score sounds fantastic in 5.1 digital surround sound so fans will want to own this package regardless of the slim special features. But even with a DVD and UltraViolet digital copy included I'm left wondering what could have been…