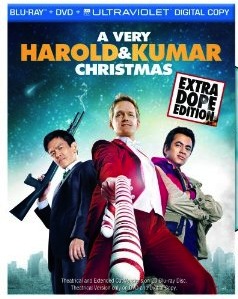 In a special feature included on the A Very Harold & Kumar Christmas Blu-ray co-star Tom Lennon declares the movie "the 19th Greatest Christmas Story Ever Told." That's about right. While never as spirited as the classic tales and without the wicked sardonic edge of time-tested Christmas comedies Harold & Kumar is still a solid 90 minutes of whacked out fun that weaves in enough yuletide cheer to deem it holiday-worthy. The disc doesn't come baring many gifts but the third installment in the epic Harold & Kumar stuffs enough gags and over-the-top scenarios into its stocking it might be worth adding to your rotation anyway.
Unlike many Hollywood comedies the H&K series has never been content with simply setting up camera and having the actors riff with raunchy dialogue. The movies have always been theatrical colorful and cinematically insane. A Very Harold & Kumar Christmas keeps up the momentum peppering the third road trip with musical numbers an animated sequence in the style of Rankin & Bass Christmas specials and of course Neil Patrick Harris mayhem. The movie was originally released in 3D and while there is a Blu that sports the eye-popping effects I settled for a 2D version that was still highly enjoyable (This time I just had to imagine puffs of marijuana smoke drifting off-screen into my face). The Blu's picture quality was as sharp as always although the actual video format creates slightly distracting motion blur (that I imagine few will notice).
The extras are sparse on A Very Harold & Kumar Christmas with the aforementioned Tom Lennon segments providing much of the fun. "Through the Haze" has no qualms declaring itself a studio-driven EPK puff piece but when Lennon is at the wheel they're off-the-cuff and in the spirit of the Harold & Kumar nuttiness. Recruiting a few more of the cast would have been nice but watching Lennon tell Charles Dickens to "f*ck off" suffices. The disc also includes a making of doc on the claymation sequence (which is really just a storyboards to finished animation comparison) and three deleted scenes that prove the actual narrative of A Very Harold & Kumar Christmas was malleable in the name of funny. A good thing for sure.
I'm always in shock how enjoyable the Harold & Kumar is and continues to be—a stoner comedy with a ton of heart. For those looking to escape the run-of-the-mill Christmas movies flooding the airwaves every holiday season A Very Harold & Kumar Christmas is a perfect addition to a Blu-ray collection.