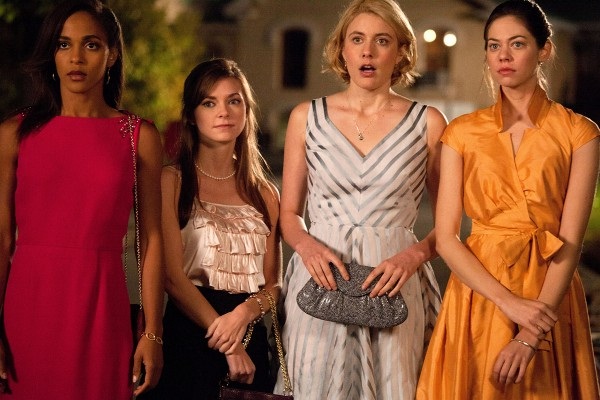 When Lily (Analeigh Tipton) transfers to scenic Seven Oaks three strange but charismatic young women approach her like a girl gang in matching sweater sets. Although Lily doesn't need help with her wardrobe or men Violet (Greta Gerwig) Heather (Carrie MacLemore) and Rose (Megalyn Echikunwoke) recruit her to live with them hang out with them and join them in their efforts to thwart the school's "atmosphere of male barbarism." It's not actually barbaric; it's a fairly normal upper class liberal arts college but to these girls one of whom has such delicate nostrils that she freaks out at the slightest hint of BO we'd be much better off returning to an classier era. Seven Oaks which used to be a women-only campus is a veiled reference to the Seven Sisters colleges some of which like Vassar have gone coed.
With Violet as a slightly awkward ringleader the trio has very strict ideas of what's proper and what's not what kind of behaviors lead to depression and general uncleanliness and what will most enhance each person's happiness. They set out to do this by avoiding handsome men and going for fixer-uppers and offering depressed students tap dancing classes and fresh-smelling soap. However even though Violet's biggest dream is to kick off "an international dance craze " something she assumes will benefit many people on a wider scale than their college-level suicide interventions they all seem sort of depressed. Is it anthropological curiosity that motivates Lily the loneliness of a new school or as with the audience the sort of weird charm shot through sadness that Violet possesses?
Fans of Whit Stillman's talky thinky upper crust movies are overjoyed that the writer/director has returned after 14 years but what will about newbies? Damsels in Distress is somewhat perplexing; there are a few too many characters and subplots that are introduced and then dropped like the young woman whom the gals take in briefly after a suicide attempt. The film brings up questions about identity the ways we lie to ourselves but leaves them dangling. We're given details about who Violet really is in an insightful and startling subplot that could have given the movie a slightly weightier tone but then it shifts back into Stillman territory. To be fair that's why we're watching in Damsels to begin with; the random excursions into the outside world of actual mental illness heartbreak and financial or personal struggle have no real place in Stillman's lovely bubble. In the end it's not clear if there's some greater thrust to the movie some sort of lesson that the protagonists and viewer should be taking away from it all but if we're allowed to turn off our brains for mindless action fodder and enjoy it why not do the same for hyper-literate modern dandies in a world of dance classes and sunny college campuses?
It's also buoyed by a strong cast led by Greta Gerwig and Analeigh Tipton with enjoyable performances by Echikunwoke and would-be suitor Adam Brody as well as excellent costumes that combine the modern look of liberal arts colleges with the perfectly preppy wardrobe of the three girls and occasional dance numbers. Small touches like Audrey Plaza as a wild-eyed and -haired tap dance student referred to as "Depressed Debbie " Gerwig's stoic face even when referring to her breakdown as being "in a tailspin " and a sight gag here and there serve to remind us that Stillman and his team aren't fumbling in the dark here; they're perfectly aware of how enjoyably goofy Damsels is. It's no accident that their college offers a class called "The Dandy Tradition in Literature" that focuses its studies on Evelyn Waugh and others as obsessed with the leisure class as Stillman.