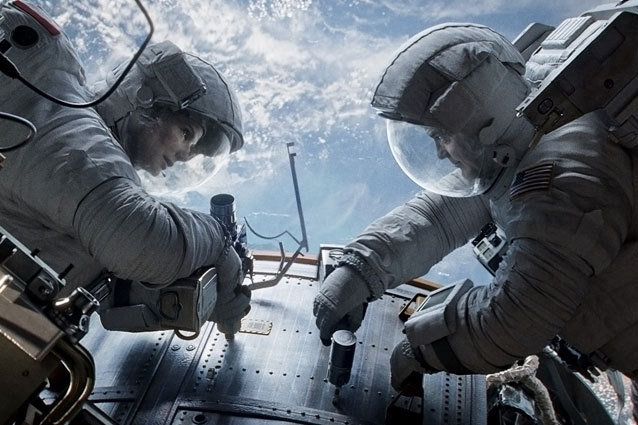 Warner Bros.
Alfonso Cuarón must have felt pretty certain that nobody would be coming to Gravity for the script. Though his reputation as a writer sings of creativity and deviation from the typical Hollywood fodder, every beat in his surprisingly linear outer space film feels not so much like an exploration of a fascinating story, but more like a means to transport an audience (that's us) to the next harrowing explosion of IMAX technology. On the surface, this probably sounds cheap — you signed up for a movie, not a roller coaster. But if it is the principal purpose of any movie to offer its audience an emotional experience, then Gravity is an unquestionable triumph. 
In fact, it should say a great deal that the moreover "typical" narrative that throughlines this movie doesn't undercut the experience. Through the film's dazzling effects and a profoundly immersive directorial style, Gravity gives us something that feels altogether new. Sandra Bullock's new-to-space scientist Dr. Ryan Stone doesn't break the mold on action-adventure heroes of either gender, but you'll be adhered desperately to her every move thanks to the veritable space simulator that Gravity really is.
It's far more than just the benefits of IMAX technology that keep us feeling like we're inches from life-threatening danger at all times. It is Cuarón's flare for the construction of genuine tension. We open on a painfully slow climb up a mountain of dread, with a nauseated Stone struggling to repair a faction of the ship while a pseudo-nihilistic astronaut Matt Kowalski (George Clooney, who can be paid credit for all of this film's moments of comic relief) jet-packs around her recounting stories of Marti Gras and romantic infidelity. All the while, aimless conversation and pleasant radio melodies notwithstanding, our chests grow heavier with anticipation of what is about to follow this mammoth single take. Disaster.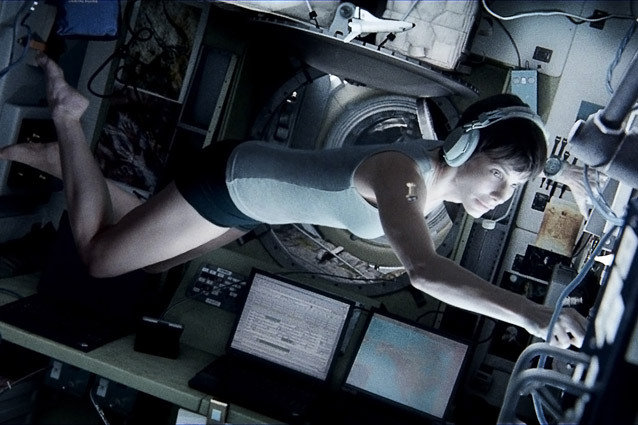 © 2013 Warner Bros. Entertainment Inc.
And once it hits, we're gone. Drowning, treading for dear life for the hour and change to follow, thrown a leaky life preserver on occasion when Stone (our consierge through this unforgiving nightmare) manages some semblance of momentary sanctuary from the insatiable abyss all around her. Our anxiety never dips below "barely sustainable" as Stone efforts to lay waist to probability and fight her way back to safety. At no point in the entire real-time adventure do we feel liberated from Stone's danger. The magic of this movie makes us feel everything that she does, without allowing for even a second of comfort to be drawn from the fact that we, and Bullock, are in no real harm.
To reiterate, it is nearly miraculous that we can't, even if and when we really want to, grip at the refuge of the "it's just a movie" mentality, especially in the face of a plotline you might find occupied by a Ron Howard epic. No, we're far too deep by the time the danger strikes to conceive of a world beyond the one Cuarón forces upon us. He's strategic generous in his inclusion of Clooney's loquacious playboy: without a few trembling smiles, we might succumb to full-on nervous breakdown. But Cuarón peppers the pleasantries in just seldom enough to keep the titular sentiment so painfully alive.
Gravity is the sort of movie that demands as big a screen and as focused a pair of IMAX-framed eyes as possible. It doesn't offer much dramatic surprise — in fact, we're prepared for just about every big turn — but the shocks, the screams, the moments that make you cower and whimper and hope to dear God that Stone is going to be okay are plentiful. Beyond plentiful, in fact. They're the whole way through. So a great story, it might not be, but in its achievement of this degree of emotional immersion, Gravity is an unbelievable piece of work.
4/5
More Reviews:
'Runner Runner' Is All Talk and No Show
'Rush' Has Thrilling Action, a Ton of Heart
'Don Jon' Is Fun, Even When Missing the Mark
Follow @Michael Arbeiter | Follow @Hollywood_com
---
From Our Partners:


A Complete History Of Twerking (1993-2013) (Vh1)


15 Stars Share Secrets of their Sex Lives (Celebuzz)