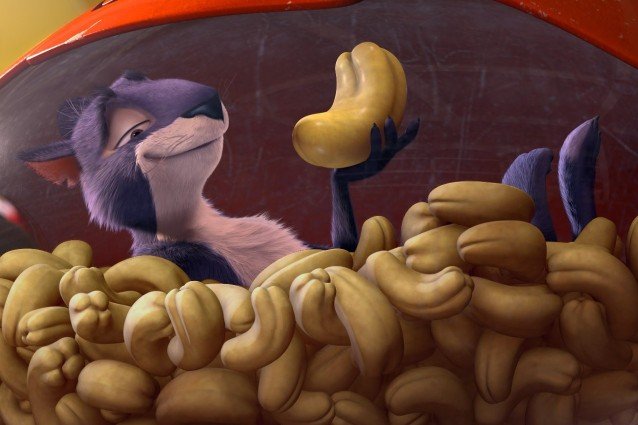 Open Road Films via Everett Collection
There is something about The Nut Job that will appeal to the old school cartoon lover — the Bugs Bunny aficionado who revels in the ne'er-do-well antics of scrappy anti-heroes, who appreciates the comic sensibilities of bumbling crooks, who likes watching woodland creatures and doofy humans get konked in the head time after time after time. But where Bugs Bunny cartoons always succeeded was in their wit, a department in which The Nut Job is severely lacking. Just under an hour and a half long, The Nut Job has a minute's worth of genuine laughs, favoring the ostensible charms of goofiness over actual funniness.
Usually, when a children's cartoon lacks good humor, it makes up for it (or tries to) with warmth. Here, The Nut Job is also lacking... not entirely devoid, but lacking. The story follows the lazily, albeit appropriately, named Surly Squirrel (Will Arnett, affecting an occasional New York accent to drill home that his character is a jag), who is a self-serving survivalist who hordes as many nuts as he can find for his own safekeeping without concern for his fellow park-dwelling animals — all of whom subscribe to a strange socialistic society led by a solemn raccoon (Liam Neeson). The only animals who sympathize with Surly are his mute pal Buddy, a rat, and his diplomatic fellow squirrel Andie (Katherine Heigl), the latter of whom endures a constant battle to convince Surly to employ his superior food heist skills to help the other rodents. But he won't... and we're never quite sure why.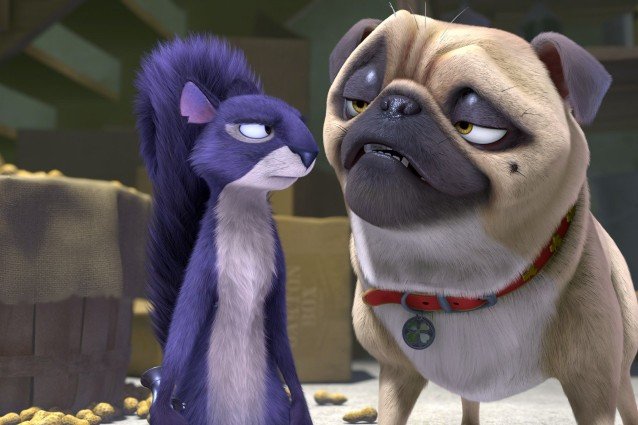 Open Road Films via Everett Collection
On the one hand, it could be that he's just a Darwinian individualist. On the other, he drops lines disparaging the aforementioned raccoon for never accepting him, and laments his banishment from the parkgrounds after an unfortunate incident with an inflamed tree. There isn't much work done with the Surly character, so there isn't much of a payoff for his inevitable emotional turnaround. We don't quite understand if he wants to be accepted for who he is, welcomed lovingly into the park community, or adorned with the kind of praise that thick-headed hero squirrel Grayson (Brendan Fraser, giving the funniest performance in the film as a cocky but affectionate dolt) regularly receives.
When it comes to films directed at young kids, there's usually the hope that there will be something learned, or some semblance of an emotional lesson carried forth. You can pick from the usual grab bag to piece together whatever it is that The Nut Job wants you to feel: accept other people, it's better to help others than help yourself, friendship is important, never trust a raccoon. But more than any of these, the primary takeaway is screwball cartoon mania that you don't often get to see in Disney, or even DreamWorks. And yes, it'll remind you of Loony Tunes in function, but you'll wonder then just why you aren't laughing.
2.5/5