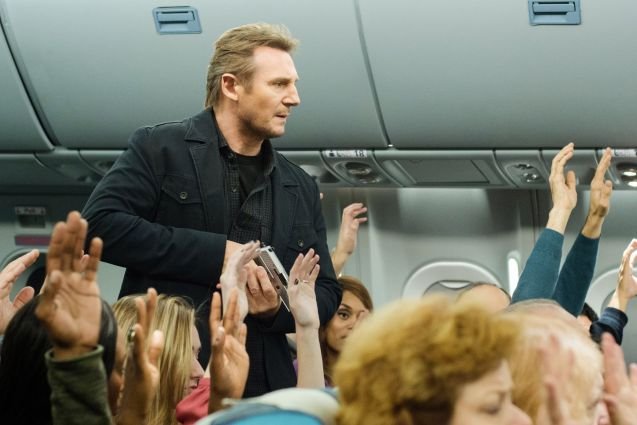 Universal Pictures via Everett Collection 
Seventeen years ago, Harrison Ford grumbled four simple words that defined a genre, a demographic, and a country: "Get off my plane." In a pre-9/11 world, there was no shortage of jingoistic glee in a movie like Air Force One, in which a man's man American president doled out justice to a militia of Russian loyalist terrorists who made the silly mistake of attempting to hijack his flight home from Moscow. In 2014, we don't have the luxury of facing a plotline like this with reckless merriment. There's a damp gravity to the premise behind movies like Non-Stop, which in another time would have been nothing more than Taken on a Plane. But rigidly conscious of the connotations that attach to a story about a hijacking of a civilian international flight into John F. Kennedy Airport in New York City, Non-Stop doesn't play too fast and loose. It still plays, and has some good fun doing so, but carefully.
From the getgo, we're anchored into the grim narrative of Liam Neeson's U.S. Air Marshall Bill Marks, who settles his demons with a healthy spoonful of whiskey. A dutiful officer even when liquored up, Marks eyeballs every nameless face in London's Heathrow Airport, silently introducing the bevvy of characters who'll come into play later on. After takeoff, Marks finds himself on the unwitting prowl for the anonymous party who's attempting to take down the red-eye through a series of manipulative text messages, well-timed threats, and clandestine killings. Chatty passenger Julianne Moore and flight attendant Michelle Dockery join Marks in his efforts to identify the mysterious criminal before the entire aircraft falls to his or her whims. So less Taken, more Murder, She Wrote.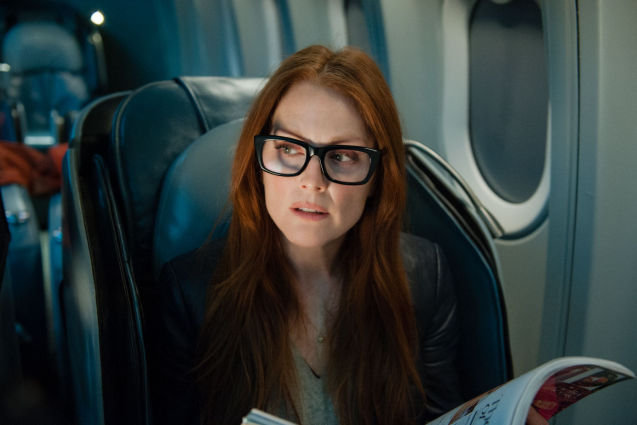 Universal Pictures

Our roundup of suspects challenges our (and their) preconceived notions, and quite laughably — most vocal among Neeson's fellow passengers are a white beta-male school teacher (Scoot McNairy), a black computer engineer with an attitude of entitlement (Nate Parker), a softspoken Middle Eastern surgeon whose headwear gets more than a few focal shots (Omar Metwally), a middle-aged white businessman whose latest account landed him more than your house is worth (Frank Deal), an irate black youngster draped in irreverence (Corey Hawkins), and a white, bald, machismo-howling New York cop who secretly accepts his gay brother (Corey Stoll). Just a few talking heads short of Do the Right Thing, Non-Stop manages to goof on each man's (notice that they're all men — Moore, Dockery, and a barely-in-the-movie Lupita Nyong'o are kept shy of the action for most of the film) distaste for and distrust of one another as they each try to sidle up to, or undermine the harried Marks.

Non-Stop plays an interesting game with its characters and its audience, simultaneously painting the ignorance of its characters with a thick coat of comedy while pointing its finger straight out at us with accusations that we, too, thought it was whoever we just learned it wasn't, and for all the wrong reasons. "Shame on you!" Non-Stop chides, adding, "But let's keep going, this is fun!"

It is fun — that's the miraculous thing. Without any "Get off my plane"s or "Yippee ki yay"s, Non-Stop keeps its action genre silliness in check (okay, there is a moment involving an airborne gun that'll institute some serious laugh-cheers), investing all of its good time in the game of claustrophobic Clue that we can't help but enjoy. It sacrifices some of its charm in a heavy-handed third act, tipping to one side of what was a pretty impressive balancing act up until that point. But its falter is not one that drags down the movie entirely. Fun and excitement are restored, sincerity is maintained, and even a few moments of sensitivity creep their way through. We might not live in a world of President Harrison Fords any longer, but Air Marshall Liam Neesons could actually be a step up.

3.5/5

| Follow @Hollywood_com