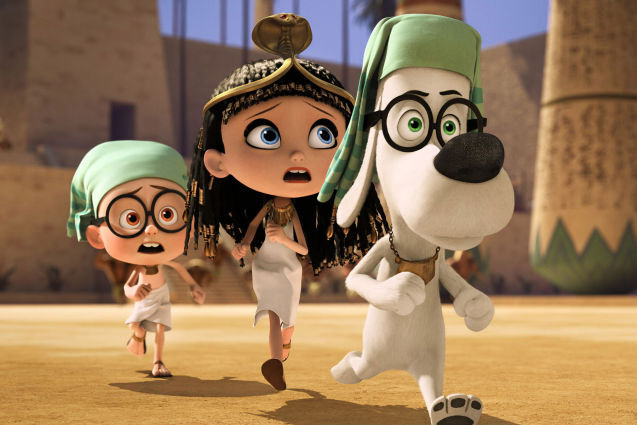 DreamWorks
For the bulk of every Rocky and Bullwinkle episode, moose and squirrel would engage in high concept escapades that satirized geopolitics, contemporary cinema, and the very fabrics of the human condition. With all of that to work with, there's no excuse for why the pair and their Soviet nemeses haven't gotten a decent movie adaptation. But the ingenious Mr. Peabody and his faithful boy Sherman are another story, intercut between Rocky and Bullwinkle segments to teach kids brief history lessons and toss in a nearly lethal dose of puns. Their stories and relationship were much simpler, which means that bringing their shtick to the big screen would entail a lot more invention — always risky when you're dealing with precious material.
For the most part, Mr. Peabody & Sherman handles the regeneration of its heroes aptly, allowing for emotionally substance in their unique father-son relationship and all the difficulties inherent therein. The story is no subtle metaphor for the difficulties surrounding gay adoption, with society decreeing that a dog, no matter how hyper-intelligent, cannot be a suitable father. The central plot has Peabody hosting a party for a disapproving child services agent and the parents of a young girl with whom 7-year-old Sherman had a schoolyard spat, all in order to prove himself a suitable dad. Of course, the WABAC comes into play when the tots take it for a spin, forcing Peabody to rush to their rescue.
Getting down to personals, we also see the left brain-heavy Peabody struggle with being father Sherman deserves. The bulk of the emotional marks are hit as we learn just how much Peabody cares for Sherman, and just how hard it has been to accept that his only family is growing up and changing.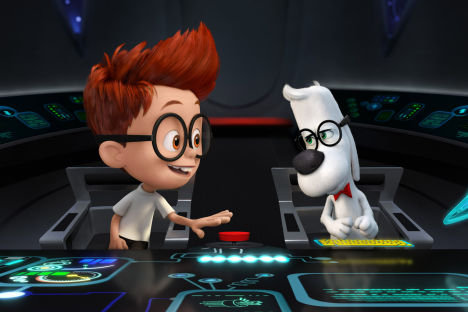 DreamWorks
But more successful than the new is the film's handling of the old — the material that Peabody and Sherman purists will adore. They travel back in time via the WABAC Machine to Ancient Egypt, the Renaissance, and the Trojan War, and 18th Century France, explaining the cultural backdrop and historical significance of the settings and characters they happen upon, all with that irreverent (but no longer racist) flare that the old cartoons enjoyed. And oh... the puns.
Mr. Peabody & Sherman is a f**king treasure trove of some of the most amazingly bad puns in recent cinema. This effort alone will leave you in awe.
The film does unravel in its final act, bringing the science-fiction of time travel a little too close to the forefront and dropping the ball on a good deal of its emotional groundwork. What seemed to be substantial building blocks do not pay off in the way we might, as scholars of animated family cinema, have anticipated, leaving the movie with an unfinished feeling.
But all in all, it's a bright, compassionate, reasonably educational, and occasionally funny if not altogether worthy tribute to an old favorite. And since we don't have our own WABAC machine to return to a time of regularly scheduled Peabody and Sherman cartoons, this will do okay for now.
If nothing else, it's worth your time for the puns.
3/5