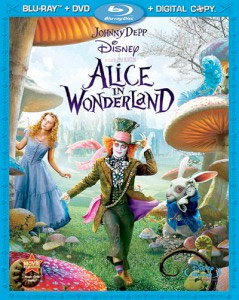 Last week The Walt Disney Company announced that their Spring hit Alice in Wonderland had officially crossed the $1 billion mark in global gross only the sixth film in history to do so. As if they foresaw this financial milestone when they controversially announced their DVD/Blu-ray roll out weeks before the films bow (with a shorter-than-usual window between releases) they unleash their maelstrom of home entertainment products today riding on the success of Alice's theatrical run and boasting the annual box-office crown. You've got to hand it to the Mouse House they can capitalize from and merchandise a property like none other.
But is the hefty price of the top product the Blu-Ray/DVD/Digital Copy package worth it? It depends on what you're looking for. If you and/or your family loved going down Tim Burton's colorful but convoluted rabbit hole then you'll probably like the fact that you can get both discs plus the digital copy in one purchase (that way your Red and White Queen's at home won't have to go to war over it).
However the special features crowd won't be able to get truly immersed in them because each subject gets only about five minutes of coverage before you're whisked along to the next. They throw in a little bit of something for everyone but ultimately come up short. Notable bonuses include a look at the cakes that comprised the Mad Hatter's scrumptious table spread courtesy of the Cake Divas (love that name) and a time-lapse of Helena Bonham Carter's grueling daily make-up ritual. Burton fans will be disappointed to know that there's no commentary whatsoever. All in all the features are pretty flat.
The same can be said for the film itself because despite the gripes about shooting 3D vs. converting to 3D Wonderland was a hell of a lot more interactive and entertaining with the added dimension. Without it the authenticity of most of the digital characters is compromised and the green-screen-heavy visuals become tiresome as if you the viewer are switching off between a movie and a video game and don't care about either. Luckily the films enviable cast came through for their eccentric director helping to take the focus off of his drawn-out narrative. Each actor channels the heart of their character whether that core is wicked (in the case of Carter's Red Queen) wondrous (like Anne Hathaway's White Queen or Michael Sheen's White Rabbit) or just weird (Johnny Depp is particularly out-there giving his turn as Willy Wonka a run for it's title as the actor's most peculiar performance).
If you've got the capability to watch Alice in Wonderland in a large loud ludicrously cinematic environment then you're in for an epic audio visual adventure each time you pop that disc in. Unfortunately the smaller the TV the less engrossing the experience is. Overall: an average home entertainment release for an average film.