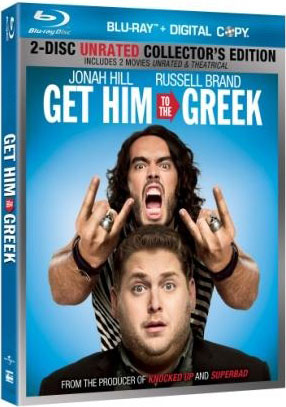 Russell Brand and Jonah Hill: an annoying match made in hell. The two comedians met in Hawaii while filming Forgetting Sarah Marshall and have continued their fictional friendship in the unnecessary spin-off Get Him To The Greek. Nicholas Stoller returns to direct this time from his own screenplay. Unfortunately all that made Sarah Marshall a notable notch on his and producer Judd Apatow's belt is gone in this romp about a record company intern who is hired to accompany out-of-control British rock star Aldous Snow to a concert at L.A.'s famous Greek Theater.
Brand and Hill are one-trick-ponies who have been given a shot at the big time with this outrageous premise but they fail to show their audience that they are capable of much more than they've already done. Brand drinks and drugs heavily and cavorts around town with his Katy Perry girlfriend doppelganger Jackie Q (Rose Byrne has a wonderful time playing a boozy pop-singer) and a pack of busty babes; is it life imitating art or vice versa? All the while Hill who's feeble attempt at conveying cinematic romance with his co-star Elisabeth Moss is as unbelievable as the fact that this film got greenlit resorts to the same trashy talk and over-the-top facial expressions that have made him the poster boy for American mallrats and misfits. When the funniest thing about your film is Sean Combs you've got a problem.
Most Universal Blu-ray discs look fantastic and Get Him To The Greek is no different. The bright lights of the big cities that this dynamic duo visits look fantastic as does the concert footage of Aldous in action which you can watch separately on the special features disc. Still it's all style and little substance. The behind the scenes documentaries offer a few extra laughs that are raucous in their own right but the standard gag reels (there are two of them here) were the highlight of my viewing experience. The feature commentary is a hoot to listen to (especially if you're in Brand's inebriated state) and extra special bonus features allow you to sing karaoke on 15 songs from the film which will at least give a consumer a reason to revisit this Blu-ray.