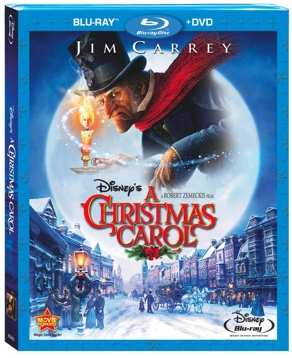 Love him or hate him you've got to hand it to Robert Zemeckis: he's done wonders for computer generated animation in the 21st Century abandoning live action filmmaking after the year 2000 to push motion capture technology forward. Unfortunately after 2004's beloved The Polar Express he seemed to have abandoned the art of storytelling for spectacle. That is the case with his most recent effort 2009's rehash of Dickens' holiday classic A Christmas Carol.
Zemeckis and his army of animators attack the narrative with vigor as if they were forging new cinematic territory. Together they've painted a colorful picture with sweeping visuals of Victorian London and a brisk pace but for the first time since 3D became a major commodity for filmmakers I feel that even the standard Blu-ray release in no way compares to the theatrical presentation. Though short in terms of run-time this is a BIG movie that is meant to be viewed in its intended format and that entails an IMAX screen or at least a large HD television. Those lucky enough to be a step ahead of the market who already own a 3D TV will be able to relive the adventure the right way with Disney's 4-disc set (which includes a 3D Blu-ray disc) but I couldn't help feeling like something was missing when watching it at home; I just wasn't as immersed as I should have been.
The same can be said of the practically non-existent special features included in the 3-disc set. All you've got is a brief featurette on the motion capture process (narrated by an incredibly annoying actress from the film) a few incomplete deleted scenes and a short "tour" of the set guided by the young Sammi Hanratty (who plays a few chldren in the movie). That's it.
Though the director touts this to be the "definitive" version of the timeless tale there's little to distinguish it from the countless other iterations of the story apart from its animated delivery. Therefore if you're a fan of the film or just want to have a holiday hallmark handy for the kids to watch come December try this out. Otherwise you'll find better versions of A Christmas Carol on PBS or BBC.