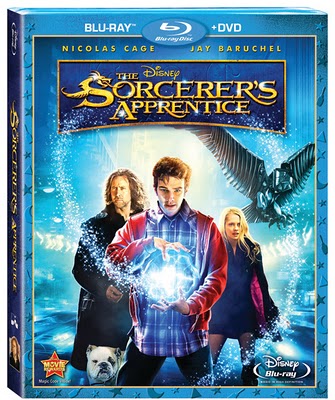 The Sorcerer's Apprentice had a shot at being really good. With magical mythology sleek special effects and powerful players at the helm it could have been the beginning of a brand new blockbuster franchise for Walt Disney Pictures its billion-dollar producer Jerry Bruckheimer and long time director Jon Turteltaub. Instead of developing the story and characters naturally however the five screenwriters who provided the at-times nauseating dialogue forced the narrative along punctuating every scene with an action sequence to cover up the fact that no one knew what the hell they were doing with this promising premise.
The story was hatched from an idea so obviously born in the Disney offices. Essentially marketing executives over at the Mouse House thought it'd be fun to revisit the timeless Sorcerer's Apprentice segment from the 1940 classic Fantasia where Mickey Mouse must fend off hundreds of sentient brooms that are flooding his Master's office. Trying to recreate the past is often risky business and trying to build an entire film around a classic cinematic marvel of yesteryear is a lazy practice. As a result all involved in this movie struggle to make it to the end credits.
Nicolas Cage tones down his signature insanity to play Balthazar mentor to Jay Baruchel's "Prime Merlinian" a descendant of the Arthurian conjurer who trained a trio of magicians in 700 AD before being betrayed by one of them (Maxim Horvath played by the great Alfred Molina). As he lay dying Merlin tells Balthazar that a special dragon ring will help him find his successor who is the only person that can vanquish Maxim and Morgana his mortal enemy and a powerful sorceress in her own right. Centuries pass until Master and Apprentice meet. Once they do the magic wears off all too quickly.
Baruchel proves for the second time this year (the first being She's Out Of My League) that he is incapable of carrying a film even with the support of competent co-stars. His shtick runs thin quickly before becoming redundant and eventually annoying. Other disposable characters including Teresa Palmer's Becky Barnes and Toby Kebbell's mildly entertaining illusionist Drake Stone provide filler for the thin plot before the anti-climactic battle between good and evil begins which looks cool on this high definition Blu-ray disc but not cool enough to make me forget how bad The Sorcerer's Apprentice really is.
Quite often engaging bonus content can save the home entertainment release of a sub-par film and Disney provides a plethora of featurettes including "Magic In The City" (which talks about filming in the Big Apple) and "The Science of Sorcery" (which tries to legitimatize magic) to take your mind off the magical mess that is the film but none of it changes the fact it is at best forgettable.