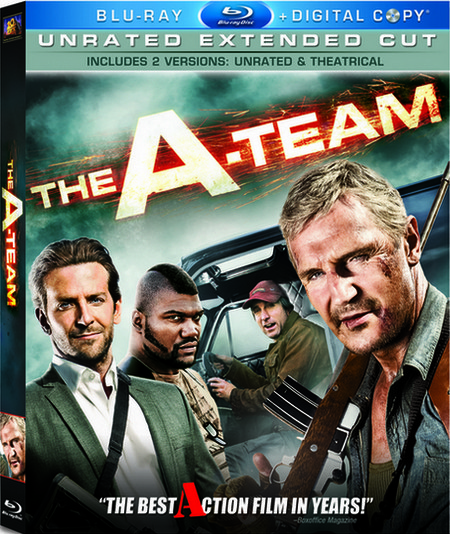 2010 gave audiences a slew of testosterone-fueled "men-on-a-mission" movies. One such film was The A-Team 20th Century Fox's reboot of the 1980s TV series that centered on a group of rogue military operatives turned soldiers of fortune and starred George Peppard and Mr. T among others. Liam Neeson and pro-fighter Quinton "Rampage" Jackson took over for the aging actors in the adaptation with Bradley Cooper and Sharlto Copley rounding out the crew as Faceman and Howlin' Mad Murdock. While the former pair of performers gives their best imitations of their roles' respective originators Cooper and Copley steal the show with charm and chaotic behavior making the film a lowbrow delight.
However it's director Joe Carnahan who deserves whatever kudos The A-Team gets. As a co-writer he took a script from Skip Woods (X-Men Origins: Wolverine) pumped it full of personality and kicked the adrenaline into high gear. Like his sophomore feature Smokin' Aces the action is so far over-the-top it's actually fun to watch. Producer Tony Scott's signature is all over the film as well (particularly in its editing) and the pair is actually a match made in heaven (had Scott directed I'm not so sure the finished product would've looked much different). Yes The A-Team could have been a better movie if the combat sequences were taken a bit more seriously if Carnahan wasn't so heavy-handed in his commentary on the military industrial complex and if the film was about fifteen minutes shorter but these de-merits aren't enough to take away its mantle as one of the better all-out action flicks of the year.
You can now bring the broad humor and logic-defying excitement home with Fox's Blu-ray release of the film which looks great on a HDTV (note that there are two versions included – the theatrical release and an extended cut). Even the spotty sequences of green-screen mayhem jump out at you in this 1080p transfer which also features killer lossless DTS-HD Master Audio 5.1. The gunfire and explosions are incredibly sharp; ricocheting bullets bounce between speakers effectively putting you in the middle of the battle but if you really want get inside the production Fox has provided a plethora of special features to keep the fun going for hours.
Bonus content is a linchpin in my opinion of home entertainment products and The A-Team doesn't disappoint. Aside from the usual suspects (trailers BD-live connectivity and deleted scenes) there is a general set of featurettes on each major character in the film called "Character Chronicles" and a half-hour making-of documentary short ("Plan of Attack") that touches on all the aspects of producing a big-budget feature. The gag reel actually dishes some legitimate laughs while "The Devil's In The Details" offers a feature length picture-in-picture view of the film. Throughout its run Carnahan pops up with access to behind-the-scenes footage storyboards animatics weapon and vehicle statistics and general insight into how and why he made certain creative choices. I found this feature most enjoyable mainly because Carnahan seems like a guy I'd grab a beer with but also because getting inside his head made me appreciate the movie even more.