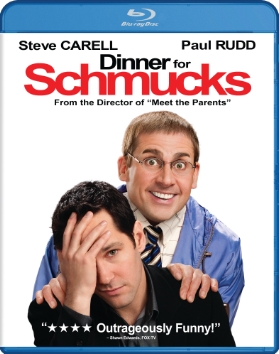 Paramount Pictures Dinner For Schmucks should've been great. A film that combines the comedic sensibilities of Jay Roach Paul Rudd Steve Carell Zach Galifianakis and Jermaine Clement (among others) is a recipe for a riotous romp especially considering the fantastic French film from which it is based. You can therefore imagine the immense disappointment I felt when I popped the Blu-ray release of this would-be laffer into my entertainment center and sat through one of the most painfully unsatisfying films of 2010.
The entire cast and crew seemed to be out to lunch in this movie. Carell has never been this bad because even in his most awkward moments on The Office he's still funny enough to not make his audience uncomfortable. Here it looks like he's just reading lines off of a teleprompter after a night of heavy drug use. What's worse is that he's incredibly creepy too eliminating any chance of sympathy humor for the innocent doe-eyed character. Yikes. Rudd whose role requires him to play it straight is missing all of the charm that has made him one of America's favorite funny men. Most damaging is Roach's direction or lack thereof. It appears that he sticks to the script on this one rendering the tone stiff and stale. The first third of the film is all exposition and set-up for the actual dinner party; it is so incredibly bad that it's a miracle anyone stuck through the rest of the movie during its theatrical run.
Instead of providing entertaining extras to wash the sour taste of the feature away there's literally nothing of consequence to watch in terms of bonus content. You can go behind the scenes with the cast which is worth just a bit more than watching the movie while deleted scenes deliver more inane non-humor. There is a pointless featurette about the guys who made the "mousterpieces" that Carell's Barry creates but I see no reason to waste my time watching it after losing two hours of my life to these schmucks.