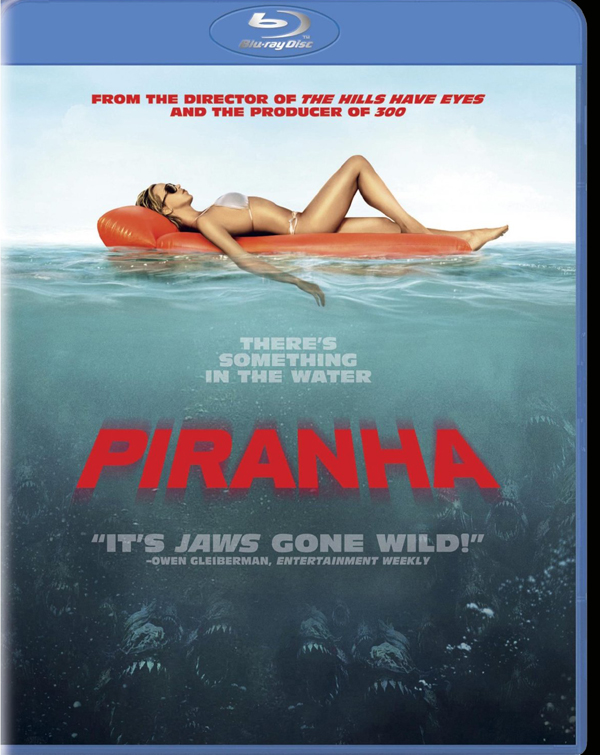 Piranha 3D isn't unwatchable by any means. It's certainly not a film of any sort of quality or one that would make anyone's top ten list (not even Tarantino's). But it's entertaining like a good movie is supposed to be and that's because the filmmakers did an excellent job delivering exactly what their audience wanted from the movie: breasts blood bikinis and snarly piranhas in 3D. It's evident they realized it was their job to create a film that would satiate viewers rather than create one with any kind of allegorical significance and because they recognized this difference (and weren't ashamed of it) I feel comfortable arguing that this is actually a great movie.
Based on the 1978 movie by Joe Dante Piranha 3D stars Elizabeth Shue as the sheriff who's in charge of making sure the spring breakers who've recently inhabited Lake Victoria abide by the laws and do the fictitious thing of having fun while being safe. She becomes concerned when a fisherman goes missing and then stumbles upon his body only to see that he has been badly mangled by some sort of lake creature. The next day while she's taking some seismologist divers to a special location she's shocked when both divers are killed by piranhas and when she brings one of the fish to an old marine biologist (played by Christopher Lloyd) he tells her that the species she's encountered is prehistoric and thought to be extinct. And that's exactly when the piranhas start eating girls right out of their innertubes.
In addition to what is typically found in the special features section of a Blu-ray we were given a profile of director Alexandre Aja who described his goal of creating a "guilty pleasure" movie of the 80s that combined excessive nudity and gore to almost make it comedic. He also explained how much he enjoys making movies where the viewers question what they would do if they were in the same situation as the characters. Josh Stolberg and Jeff Goldfinger's screenplay was praised too as they were the ones responsible for designing the movie as a throwback to the horror films where breasts were everywhere and a few of the kills were campy. Director and producers alike were keen on the concept of making a movie that revolved around the concept of spring break under attack and this proves to be an important special feature to check out because it's proof that the movie is self-aware and doesn't take itself too seriously.
But production enthusiasts aren't the only ones who will be satisfied with the special features. For the people more interested in the films visuals (shall we say) we learned about what went into casting the characters choosing a location that would be suitable for extreme aquatic action sequences and how filming in 3D impacted the production. They'll also be quite taken with feature that has all the footage of the spring breakers jumping on trampolines and participating in wet t-shirt contests and motor boating each other and has the inside scoop on how they shot the scene where Danni and Crystal are swimming under water naked together. All in all it'd be crazy to say it wasn't worth a peek.