Most modern kids' movies tend to be a bit flashier there are usually a lot of jokes that only the parents can enjoy and they often include a whole lot of slapstick gags but there was a time when a cartoon film could simply be beautiful touching and adorable without all the fuss. In the case of Walt Disney's classic 1942 animated film Bambi beautiful doesn't even begin to describe it. Despite its understated story and style of beauty Bambi continues to be something that every child (and grown-up too) should enjoy.
The film is now on Blu-ray and the new format brings the natural wonderland created by Disney animators almost 70 years ago into a new brilliant light. While the colors in Bambi are a bit more subdued than they are in other classics like Sleeping Beauty and Alice in Wonderland they come together to create a gorgeous storybook-style representation of nature. The Blu-ray format almost emphasizes the old animation technique of layering backgrounds and foregrounds to create scenes giving the film the sense of an ultra-realistic pop-up book as Bambi grows up and begins discovering the world around him. Walt Disney demanded that his animators study real wildlife so as to capture their subject as accurately as possible and the crisp brilliant display offered on Blu-ray helps place more focus on the incredible attention to detail that these artists employed.
When it comes to special features as with any Disney Diamond Edition release there is no shortage of extra history and fun to be had but it's not just the features themselves that are impressive. Everything on the disc is handled with great care even the menus are draped with Bambi-style animated backgrounds that cycle through day and night and the film's famous "April Showers" as you browse through the options. The disc gives you a chance to learn everything you can about the film from its history to its origins to deleted scenes and a peek into the Disney archives. With all these activities to help you enjoy the film it might be hard to pick a favorite but I have a few.
By far the most interesting feature is the Blu-ray commentary. Because Walt Disney is no longer around to record a commentary track sharing the ideas that fed the film's creation the Disney folks dug up transcripts of the animators' meetings and combined them with a voice-over and the picture-in-picture style commentary that shows storyboards and sketches while the movie plays. This style of commentary is one of my favorite features that the new Disney Blu-rays tend to offer because it makes it feel like more of a documentary than just an audio track plopped on top of the film. You also have the option of watching an introduction from Diane Disney Miller but it's little more than a commercial for the Walt Disney Museum so I'd suggest skipping it.
More interactive features include a photo gallery that allows detailed searches ratings and favorites systems and a host of different viewing options. While I doubt the rating and favorite systems are necessary the content of the gallery is fantastic; it includes everything from concept art to storyboards and photos of the animators studying the creatures they mimicked on film.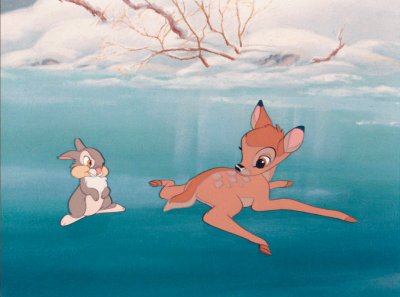 For the kiddies the disc includes an interactive storybook that teaches kids about the various animals seen in Bambi and how they interact and behave in the wild based on the seasons. It also includes games that coincide with the video lessons (narrated by a Friend Owl imitator) where kids can earn virtual stickers that they can use to create Bambi-themed nature scenes when they're done learning. It's great for little ones as these things usually are. For adults or families Disney takes this to the next level with "Disney Second Screen" which allows you to sync your iPad to the film so you can browse relevant special features while watching the film on your television which is pretty cool.
This new edition is clearly a staple for any family or Disney fan. It offers hours of extras and at its simplest it's a beautiful restoration of a classic film that was already a visual delight to begin with.
Bambi is released on Blu-ray/DVD combo pack March 1.