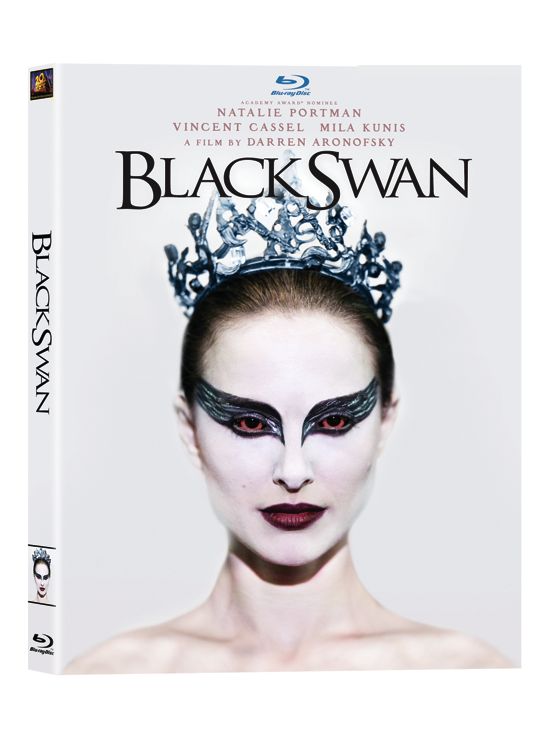 At this point unless you live in a cave sealed shut with mud grass and giant sticks you've heard about Black Swan. You know that it's that ballet movie where Natalie Portman goes so crazy that she wins an Oscar last month. You know there's that lesbian scene and that your friend who saw it in the theaters heard some weird noises coming from the dudes sitting in front of her during that particular scene. You get the pop culture references and weird GIFs that show up on Tumblr but do you really know what the film is about? Maybe not. Or maybe you have seen it and like me can't wait to watch it and be terrified again. Thankfully Darren Aronofsky's beautiful and disturbing psychological thriller is now on Blu-ray and DVD and here's your chance to experience why references to the film are so ubiquitous.
Aronofsky's always filled that "visionary" slot when you're trying to fit directors into certain boxes. While I haven't loved every single film he's made he certainly has a way of making it impossible to look away from the screen until it's over. Black Swan is no different. When Nina's (Portman) twisted mind starts to invade her reality the result is a stunning yet terrifying film that takes you to the brink of exhaustion and mental anguish. The bedrock of the whole film is the classic ballet Swan Lake and the disgusting almost vulgar mental acrobatics in Nina's world provide a stark contrast against the beauty of the ballet's score and of the dance itself. It's a fantastic film that strikes a balance between the utterly grotesque and opulent beauty. The high-res format on Blu-ray does emphasize that fact that a few special effects are just that but considering that the film had such a small budget and that the rest of it is so engrossing it's really not that much of an issue. Besides the incredible sound quality gives such weight to the emotionally wrenching soundtrack and the insane hissing noises in Nina's mind that there's little time to notice a few obvious visual effects.
As for the special features they're numerous but only a few are worth your time. There are various videos about the costumes the set design and each actor's mental journey with their character – all except Mila Kunis who is conspicuously missing from many of the behind-the-scenes content. These are great but they're probably nothing you didn't see when the film's hype was in full swing.

The two best features on the disc offer more than I'd hoped for but cover everything I'd ever want to know about this intriguing film. While the "Ten Years in The Making" featurette is great at explaining the journey the film took from the time Aronofsky approached Portman about it while she was still in college to the time that it finally came into being the really wonderful feature is Metamorphosis. This is not simply your typical behind-the-scenes footage that you'd find on any DVD for even a two-bit comedy. It's a full documentary that takes you into the process of creating the entire film. We see training we see the implementation of special effects we see mistakes we see disagreements. Basically we see it all as the film comes together and that's something you always hope for when a film like this hits Blu-ray or DVD. On the whole Black Swan on Blu-ray hits all the right notes – even if those notes are likely to give you nightmares.
Black Swan is available on Blu-ray and DVD now.