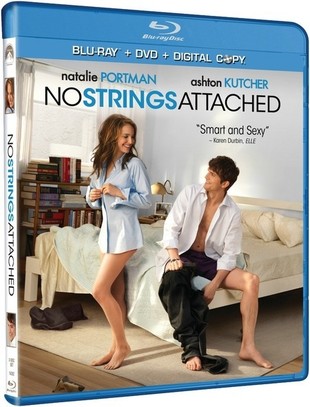 No Strings Attached is one of the first in a new trend: the "realistic" rom-com genre. Yes that's an oxymoron but it's a thing I assure you and No Strings shows us a decent effort in this budding rom-com subset. For folks that look to the Blu-ray and DVD extras you'll find an even greater exploration of how screenwriter Elizabeth Meriwether tried her hand at romantic comedy for real women and maybe even for men.
We all know there's a problem with the modern romantic comedy: women aren't all fashion-obsessed well-dressed ditzes looking for Prince Charming. We don't speak melodically and we're often just as cynical and lacking in grace as our male counterparts. That's where No Strings Attached comes in. It's the romantic comedy for cynics – or at least it starts out that way. Sure it still has the happily ever after story written all over it and it missteps a few times but the film explores a very modern relationship and for the most part does it pretty well.
At the film's center we find a successful and very busy doctor Emma (Natalie Portman) who runs into her childhood friend Adam (Ashton Kutcher) who's a television production assistant on a show much like High School Musical or Glee and the pair strikes up a friendly but strictly sexual relationship. Before long things get complicated but that's the fun part so I'll stop there. The easy-going flick gains momentum from its capable and in some cases hilarious supporting cast for example Greta Gerwig is a pleasant though incredibly cynical surprise.
The Blu-ray/DVD/Digital Copy combo pack has a few special features some of which are fairly typical – deleted scenes commentary etc. – but it's really a short behind-the-scenes featurette helping to place the film in the context of other romantic comedies that's worth your time. We follow Meriwether's journey alongside director Ivan Reitman to create a "chick flick" that accomplishes the same goals (pretty people finding a happily ever after) without relying on the tropes that tend to render other chick flicks unbearable especially for the

menfolk. We see how she landed on a final project that aims to give the men in the story as much of a voice as the women which might explain why I saw it amidst legions of dudes in the theater (I suppose that means it worked).
The take-home set also includes a few other throw-away features that are fun but mostly unnecessary. We learn about Adam's fake TV show Secret High and the dancers and actors behind it. It's cute but it makes up about 15 minutes of the whole movie so I'm not sure why it's so heavily featured on the DVD. We also find an alternate story line and a few scenes that explain it as well as a "How to be sex friends" video featuring the whole cast which is anything but illuminating or helpful …or purposeful.
When it comes down to it we don't buy copies of movies like No Strings Attached for the features anyway so having only one or two features worth watching isn't too much of a detriment. Bottom line: it's a fun movie it looks great in high definition and that's all really all you need.
No Strings Attached is out on Blu-ray and DVD May 10.