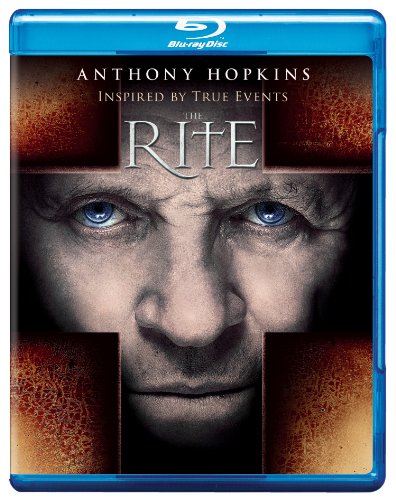 It's hard to do something unique with an exorcism movie. There's definitely a feeling within the film buff community that the horror sub-genre has not only seen better days but is in fact worn thin. After all how many times can one watch a holy man work his magic on a possessed soul? The Exorcist was a looong time ago and it takes a lot more than spinning heads devilish make-up and erratic body movements to give contemporary audiences the heebie-jeebies. Nevertheless Warner Bros. seemed to believe that moviegoers would fancy another take on the religious practice in Mikael Hafstrom's The Rite but the studio was wrong.
Sure the film features a batty performance from Sir Anthony Hopkins but its story is about as standard and predictable as can be. Inspired by true events the supernatural thriller follows a seminary student (played by the uninspired Colin O'Donoghue) who is sent to study exorcism at the Vatican in spite of his skepticism about the controversial practice and his own waning faith. But after witnessing the terrifying phenomenon first hand he begins to questions everything he believes.
As stated Hafstrom offers nothing original in his film. There's a bit of tension between Hopkins' Father Lucas and O'Donoghue's Michael Kovak but only as much as the Oscar-winning thespian will allow. He chews the scenery through most of the movie and believe it or not that's the most interesting part of the picture. The rest is all about Kovak's backstory (which somehow ties into the convoluted plot) and a slow-burn build-up to a reveal that you can see a mile away. In between you'll find all the trappings of an exorcist movie: haunting visions a girl in dire need of biblical intervention a dark and moody atmosphere and gothic but beautiful production design.
What you won't find anywhere in this release is worthwhile bonus content. I'm all about production; the ideal Blu-ray (for me at least) would always contain an in-depth making-of featurette. There's just no reason why in this day and age studios can't have a team on the set of any picture documenting the shoot. Behind the scenes footage and interviews offer insight into creative decisions and story itself which often proves more informative and interesting than the feature. The Rite contains nothing of the sort and instead uses its disc space to boast an alternate ending a few cut scenes and a profile of Father Gary Thomas whose life story inspired the film and the novel from which it's based ("The Rite: The Making of an American Exorcist" by Matt Baglio). In addition you can take a virtual tour of the actual Exorcism Academy (I sense a CW show in the making!) but after wasting two hours on the feature I can't promise you'll want to.