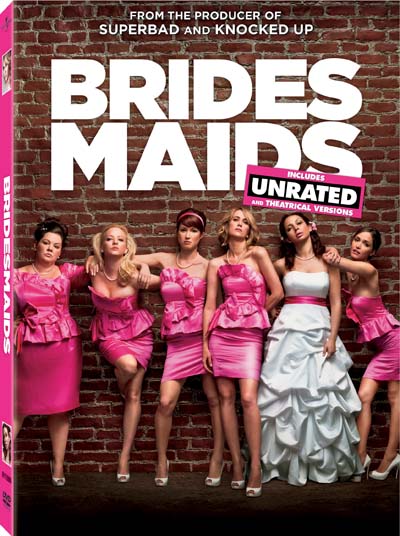 When the prospect of comedy duo Annie Mumolo and Kristen Wiig teaming up to write a comedy for Judd Apatow with Paul Feig in the director's seat came up it was pretty easy to get excited. Finally we were headed for an Apatow flick that could exist outside the realm of stoners and dick jokes. When Bridesmaids finally hit theaters our expectations were met tenfold and the result was one of the most refreshing hilarious movies of the year. Of course being that it's an Apatow film when it hits Blu-ray and DVD we're in for a hell of a lot of extra footage both in the form of an unrated cut of the film and in the copious extras. If you like to laugh there's really no reason you shouldn't own a copy of Bridesmaids.
The film finds Wiig as Annie a down-on-her-luck 30-something facing the scariest of challenges: her best friend is getting married. The best friend Lillian (Maya Rudolph) is marrying into money and with that comes a whole slew of unwelcome changes in Annie's eyes. As Lillian's maid of honor Annie encounters the groom's gruff sister Megan (Melissa McCarthy) Lillian's new wealthy friend Helen (Rose Byrne) the reluctant and potentially slutty soccer mom Rita (Wendi McLendon-Covey) and the sheltered Disney-obsessed newlywed Becca (Ellie Kemper). Things naturally get out of hand and as a set these ladies are a comedic force to be reckoned with. Of course augmenting their talents are supporting character like Jon Hamm as Annie's sexist chauvinistic sex friend; her sweet Irish love interest Rhodes (Chris O'Dowd of The IT Crowd); and her insane roommates played by Matt Lucas and Rebel Wilson of Little Britain fame. The film really delivers on all cylinders.  
Sure the crisp high definition helps the film pop and keep its modern feel but the real gems are the extras. You get a feature commentary that's entertaining even if you're not a total film nerd; you get an extended deleted scene that includes an entire storyline for Paul Rudd that never made it into the film; you get the requisite (and extremely lengthy) gag reel and line-o-rama where our capable ensemble's knack for ad-libbing gets its due. Ultimately you get a whole slew of new giggles and with a movie like as funny as Bridesmaids that's a very very good thing.
Bridesmaids hits Blu-ray and DVD Sept. 20.