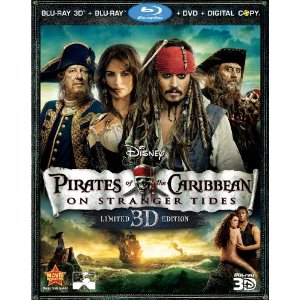 This summer the fourth entry of the successful Pirates of the Caribbean franchise On Stranger Tides pillaged the pockets of movie-goers raking in over $1 billion across the globe. Critics weren't exactly on board—our own review called it "as mechanical as the ride from which it is based"—but that didn't stop the masses from boarding ship and helping the movie become one of the highest grossing films of all time.
Sadly the movie's leap on to Blu-ray is less-than-worthy of the success in its wake. Not even Johnny Depp's Jack Sparrow has enough tricks up his sleeve to make this disc a lively experience.
The film itself is as flat and sluggish as theatrical reviews indicate. This time around Orlando Bloom and Keira Knightley's swashbuckling couple are out with Sparrow promoted to main character status surrounded by a handful of new two-dimensional characters. We find Captain Jack in the crosshairs of the British Navy who task him with finding the Fountain of Youth or hanging in the gallows. Unhappy with both choices he goes on the run crossing paths with his former flame Angelica (Penelope Cruz) and finding himself strong-armed once again—this time by the wicked pirate Blackbeard (Ian McShane).
Pirates of the Caribbean is a road movie of sorts with Jack Angelica Blackbeard a whiny priest Philip (Sam Claflin) and a mermaid (Astrid Bergès-Frisbey) all tagging along for the ride to the Fountain of Youth. But the films lacks the energy of the first film or the scope of the later two opting for a lot walking and talking in the middle of jungles rather than battling across the high seas or slick choreographed swordfighting. The gang just kind of hangs out and cracks jokes.
The dull adventure translates to lackluster special features. The Blu-ray doesn't come with much—the disc more of a vessel for Disney's other upcoming releases and their new Second Screen technology which opens up iPad-only content to play with during the movie—with most of the exciting behind-the-scenes content made exclusive to the pricey 5-disc set. The only real extra is blooper montage which feels overly repetitive even for its short length. Director Rob Marshall teams up with producer John DeLuca to walk us through the movie (I guess Pirates mastermind Jerry Bruckheimer had better things to do?) and the conversation only really picks up 4/5s into the movie when the ensemble converges upon the Fountain.
Thanks to some gorgeous location photography and a mega-budget from Disney Pirates 4 looks and sounds stunning on Blu-ray but the magic stops there. Even the bloated second and third entries delivered enough thrills to make them watchable but Pirates of the Caribbean: On Stranger Tides is for only the most hardy of pirates. Even then you may be better off walking the plank.
="font-style:>