Richard Gere Bashes 'Pretty Woman'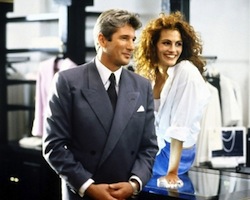 We've discovered the movie star equivalent of your high school crush forgetting your name at your reunion: While the rest of the world still loves Pretty Woman, star Richard Gere can't stand the film.
"It's my least favorite thing," Gere tells Australia's Woman's Day magazine. "People ask me about [it], but I've forgotten it. That was a silly romantic comedy."
Before you curse Gere for bad-mouthing the 1990 romantic comedy that cemented his heartthrob status, he has a good reason. He doesn't think guys like his character, Edward Lewis, should be glorified. "[Pretty Woman] made [guys like Edward] seem dashing, which was so wrong," he explains. "Thankfully, today, we are all more skeptical of those guys." Fair enough, but we still consider the Julia Roberts flick a classic!
[Us]