Richard Griffiths in 'Naked Gun 2 1/2': Director David Zucker on the Late Actor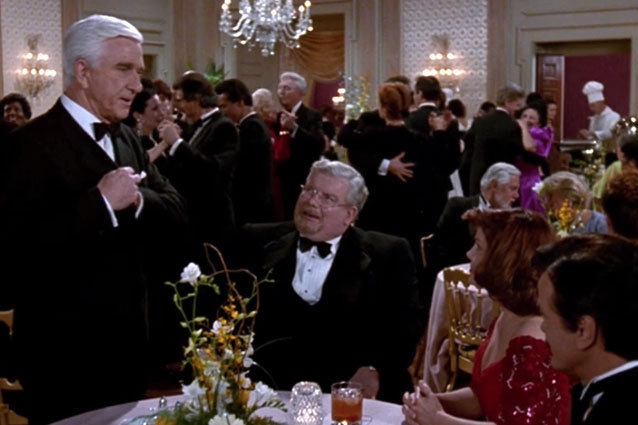 In both the early days and the final years of his career, in both in the theater and on the big screen, Richard Griffiths put his stamp on drama. A British actor with classical routes, he performed with the Royal Shakespeare Company and made his way into movies with parts in classics like Chariots of Fire and Gandhi.
Seemingly capable of anything, it's no surprise that Griffiths would eventually dabble in the absurd. It was that leap of faith where I met him, when I first saw The Naked Gun 2½: The Smell of Fear back in early '90s.
Griffith's dedication to roles is what drew director David Zucker (Airplane!) to the actor, who passed away early on Thursday. "He's a serious actor. And the more serious they are, the more degrees away from comedy they are, the less they try to wink and be in on the fun," Zucker says. "We asked him not to play it straight but to play it dead serious. The really good actors get it. The smart actors. They know not to ham it up."
Zucker says Griffiths was "all in" on Naked Gun's absurdist sensibilities, where he played the duel roles of Earl Hacker and the wheelchair-bound Dr. Albert S. Meinheimer.
RELATED: Daniel Radcliffe Remembers Richard Griffiths: 'I Am Proud To Say I Knew Him'
"I always think of him as there being two of him," Zucker says with an honest laugh. Naked Gun 2 was the first time the director had worked with Griffiths; the factor that went into casting the actor in the two roles was undeniable talent.
"In those days, we got to cast who we wanted," Zucker says. "They weren't tasked with who could get publicity or who was a name. No one really knew him. He was a semi-familiar character actor." Zucker describes his casting process from that time as "ridiculous," a system that required a dozen people to read in a room together. David, his brother Jerry, and collaborator Jim Abrahams, would pick an actor right there on the spot. Griffiths clearly impressed.
And he continued to on set. "He was in a wheelchair for most of the movie," Zucker says. "And doing a lot of crazy stunts. He did those stunts himself. He had fun — what I found is that all these serious actors don't get to play this kind of comedy very much."
As one might do with Shakespeare, Griffiths gave himself over to the text of the Zucker Bros. It was insane, sure, but was thought out and constructed. That's why it worked. That's why Griffiths worked. "The direction I give most actors is, 'let the lines do the work.' He got it. He was one of them that just got it and he was a pleasure to work with."
Follow Matt Patches on Twitter @misterpatches
[Photo Credit: Paramount Pictures]
---
You Might Also Like:


15 Oscar-Winning Nude Scenes


10 Insane 'Star Wars' Moments You Didn't Notice