Vin Diesel's Not Afraid of the Dark in New 'Riddick' Trailer
You're not afraid of the dark, are you? I hope not, because Riddick is back, and I wouldn't want to be on his bad side when the lights go out. Nine years after the release of The Chronicles of Riddick, the franchise returns with a third installment, Riddick. Star Vin Diesel reprises his role as Riddick, a dangerous, escaped convict wanted by every bounty hunter in the known galaxy. In the new film, Riddick has been left for dead on a sun-scorched planet, but bounty hunters soon come looking for him (bounty hunters are always looking for him). The movielooks like it's going to stick to the tried and true device of having Riddick make the universe's toughest bounty hunters look supremely incompetent, but that's why we love these films. There are also going to be some scary alien monsters trying to kill everyone (also why we love these films).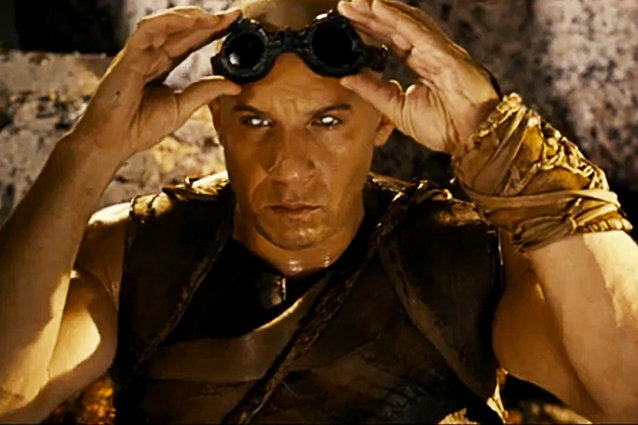 We'll also see Karl Urban (now of Star Trek  fame) return as Vaako. New to the series are Jordi Molla (Bad Boys II, Colombiana) as Santana, the arrogant captain of the mercenary ship; Matt Nable (Killer Elite) as Boss Johns, a man looking for answers; Katee Sackhoff (TV's Battlestar Galactica) as the Nordic mercenary Dahl; and Bokeem Woodbine (Total Recall) as bounty hunter Moss. Everyone's got some experience with sci-fi and/or action films, so Riddick looks like it's going to kick as much ass as it's predecessors. 
Riddick is scheduled to hit theaters on September 6. Go see it so that it kills at the box office, because remember, you keep what you kill.
Follow Jordyn on Twitter @jordynmyah | Follow Hollywood.com on Twitter @Hollywood_com
More:
New 'Riddick' Teaser Trailer Is 22 Seconds of Ass-Kicking Awesomeness
See Vin Deisel in 'Game of Thrones' the Movie! … I Mean, 'Riddick'
Vin Diesel Reveals New 'Chronicles of Riddick 2' Pics
---
From Our Partners


Stars Pose Naked for 'Allure' (Celebuzz)


Which Game of Thrones Actor Looks Least Like His Character? (Vulture)