Rihanna Mans a Gatling Gun in 'Battleship' Photo
The first trailer for Battleship was completely unpredictable. Sure, there were a plenty of aircraft carrier shots and Brooklyn Decker dancing around in a bikini—we expect those things. But when the film's main threat is revealed—an armada of alien spacecrafts vaguely resembling Michael Bay's Transformers—well, let's just say we don't remember that part of the classic Mattel board game.
The one thing the trailer severely lacked was a glimpse of co-star Rihanna, but thankfully all has been rectified with a newly released still of the singer in action. That is, the action of looking mystified by the alien invasion.
People have expressed their doubts over whether Rihanna has the acting chops to pull of a role in a big budget action movie. To that I say two things:
1. It's a big budget action movie, meaning it probably involves more running away from computerized special effects than the crafting of nuanced drama. And…
2. You don't become one of the music industries most important female artists with vocals alone. It takes presence, style and working it. That's actor sensibility.
So, yes, I am looking forward to Rihanna riding on a big, badass boat fighting off aliens with gatling guns.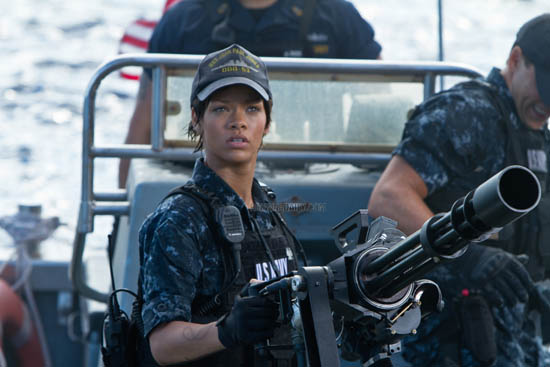 Source: RihannaDaily.com