Ryan Reynolds and Jeff Bridges in the 'R.I.P.D.' Trailer: 'Men in Black' Meets the Afterlife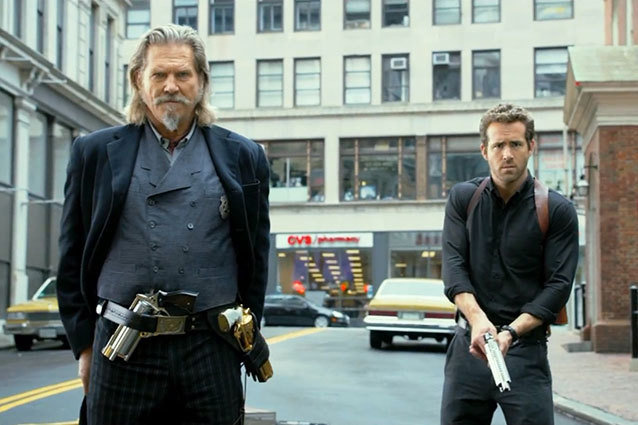 After the disappointing Men in Black 3, it's a pretty safe assumption that the alien crime fighter franchise — which seemed to cause more trouble than it was worth — is effectively D.O.A. But for anyone still yearning for a special effects and make-up-heavy sci-fi caper that follows the same exactly formula as every buddy cop comedy from the '80s, you're in luck: someone adapted the graphic comic R.I.P.D for the big screen. (It's Red director Robert Schwentke, to be more specific). 
The first trailer for R.I.P.D. was released and it's got exactly the same M.O. as MIB. You've got the wise-cracking, out-of-his element rookie (Ryan Reynolds as a recently deceased police officer) in a secret agency, paired with a crotchety, no-nonsense seasoned vet (Jeff Bridges as a gun-slinging law man in the afterlife), their surprisingly futuristic office (run by a sarcastic boss, played by Mary Louise Parker) and more quippy one-liners, explosions, and other worldly creatures (here it's the undead threatening Earth instead of aliens) that Hollywood must have thought we really had our minds erased and forgotten we've seen this movie before. 
The ETA for R.I.P.D. is July 19, which is — no surprise here — smack dab in the middle of the mindless blockbuster friendly summer season. Check out the trailer below:
More:
Tom Cruise Only Gets Hurt Handsomely and Here's 7 Pics to Prove It  
Harrison Ford Curses Out Chewbacca on 'Kimmel' — VIDEO 
Emma Stone Teaches Ryan Reynolds What a GIF is — VIDEO  
---
From Our Partners:


Eva Longoria Bikinis on Spring Break (Celebuzz)


33 Child Stars: Where Are They Now? (Celebuzz)