Robert De Niro and Dianna Agron's 'Family' Has a Penchant for Blowing Up Supermarkets
Robert De Niro cut his teeth on the mobster genre, earning just about every accolade he has received to date for his tenure under the direction of crime-obsessed Martin Scorsese. Although Silver Linings Playbook was an enthusiastic reminder of the actor's capabilities, De Niro's recent turns in the family comedy spectrum have been less than impressive. Luckily, rumors have amounted that he and Scorsese are back in talks for some new projects… but he can't just jump right back into the pools of gangsterdom. He'll need to ease his way back in, just as he eased his way out: with a crime-themed comedy. Just as Analyze This took De Niro from one genre to the next, The Family might take him right back again. We hope.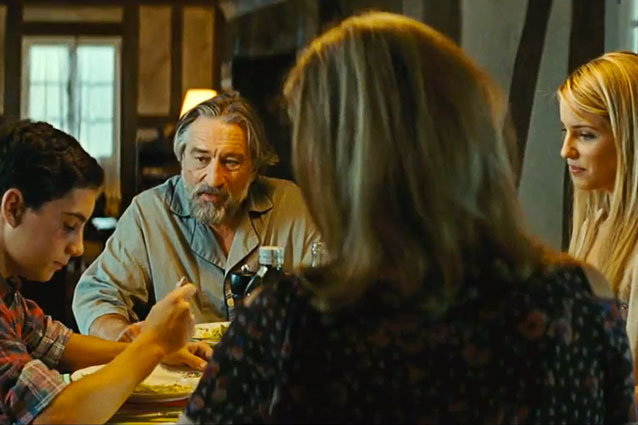 Above is the first trailer for the flick, which stars De Niro as the patriarch of a family in Witness Protection after extensive interraction with the mob. His anger-prone, debauchery-inclined family includes wife Michelle Pfeiffer, daughter Dianna Agron, and son John D'Leo… none of whom find it easy to assimilate to French living. Oh yeah, they're in France. And Tommy Lee Jones is there.
The Family might not be De Niro's route back to his old trasngressive glory. But at least it looks to have a bit more edge than Little Fockers. Preserve hope, De Nirians!
Follow Michael Arbeiter on Twitter @MichaelArbeiter | Follow hollywood.com on Twitter @hollywood_com
More:
Al Pacino Almost Played Han Solo
Schwarzenegger Confirms 'Terminator 5'
'Scenic Route' Trailer
---
From Our Partners


Stars Pose Naked for 'Allure' (Celebuzz)


Let's Translate Walter White, Taylor Swift and More into Dothraki (Vulture)