Robert De Niro vs. Robert Pattinson: Who Is the Better Robert?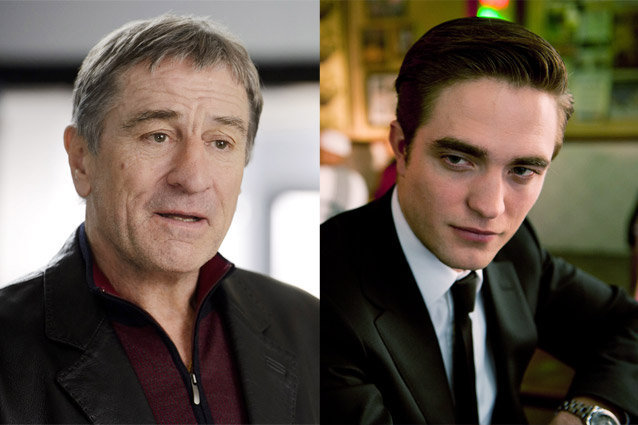 Warner Bros. Pictures via Everett Collection/Entertainment One via Everett Collection
Things are probably going to get a tad confusing on the set of Idol's Eye. Robert De Niro has joined the cast of Olivier Assayas' new film, starring opposite his fellow Robert, Twilight's own Robert Pattinson, via The Playlist. While much is still unknown about Assayas' follow-up to Clouds of Sils Maria, the film has been described as a sophisticated action-thriller.
The two Roberts make a curious pair of leads for a film, and while they share a first name, they couldn't be further apart on the Hollywood spectrum. One is an industry veteran that many would argue is the greatest living actor today, and the other made two Meet the Parents sequels. It's definitely an interesting match up.
Because arbitrarily comparing two things is the life blood of the Internet, there's only one thing left to do: it's time for a face-off. After all, there can only be one Robert. (Think about it. Do you know two Roberts? No, of course not!) We've decided to match up these two acting heavyweights in several categories from best reviewed film to best shirtless scene in a movie, in order to see which actor reigns supreme. The gauntlet has been thrown. Who is the best Robert in Hollywood?
HIGHEST GROSSING FILM
De Niro
Meet the Fockers: $279,261,160
Pattinson
Harry Potter and the Goblet of Fire: $896,911,078
Winner
Pattinson. The numbers don't lie.
CAREER LOW

De Niro
Every second of Little Fockers 
Pattinson
Salvador Dali's mustache in Little Ashes  

Winner
Pattonson, whose career low is slightly less low. RPatz made a mockery of Dali in Little Ashes, but at least hardly anyone even remembers that one. A ton of people paid actual money to see Little Fockers. They were all very disappointed.

BEST REVIEWED FILM
De Niro 
The Godfather, Part II

Pattinson
Harry Potter and the Goblet of Fire 

Winner
De Niro. The Godfather, Part II has an impeccable 99 percent on the Tomatometer while Robert Pattinson's best reviewed film, Harry Potter and the Goblet of Fire, only manages an 88 percent.
WORST REVIEWED FILM
De Niro
Godsend
Pattison
Little Ashes 
Winner
Pattinson. While Pattinson's Little Ashes sits at 24 percent on the Tomatometer, De Niro's horror-thriller Godsend has a dismal 4 percent of fresh reviews.

SUPERNATURAL CREATURE
De Niro
The Creature from Mary Shelley's Frankenstein
Pattinson
Edward Cullen from Twilight 

Winner
Pattinson. Neither role would be considered a classic by any stretch, but Edward the sparkly vampire is definitely the more memorable of the two… for better or worse.
SHIRTLESS SCENE
De Niro
Max Caddy's grizzled, tatted up torso in Cape Fear
Pattinson
Edward's shimmery vampire abs in Twilight
Winnter
De Niro. A shirtless Max Caddy manages to be way scarier than a bedazzled vampire, so this points go to Bobby D.
BEST PERFORMANCE
De Niro
Raging Bull
Pattinson
Cosmopolis
Winner
De Niro. Pattinson is surprisingly good in Cosmopolis, but Raging Bull is nothing short of an acting tour de force for De Niro.
But alas, Pattinson takes inherets the Robertian throne from the great Bobby D. But don't let that settle it for you; sound off with your thoughts below! Here's hoping Idol's Eye shows us something majestic from both of its stars.