Robert Downey Jr. and Jude Law Are Perplexed in New 'Sherlock Holmes 2' Image
Man, do I miss the Victorian era. Sure, the societal norms were crippling and insane, germ theory had barely been discovered, and imperialism was at its full, horrifying strength, but look at those clothes! If only men still wore tweed vests. There's not much to take from this first look at Sherlock Holmes 2: A Game Of Shadows, except that Jude Law and Robert Downey Jr. will be up to their usual crime-solving and historically-unlikely punching as Watson and Holmes. And figuring out that whole "game of shadows" bit. My guess is that it's Scrabble. No game is more sinister than Scrabble.
Unfortunately, the one thing that this photo definitively confirms is that Downey won't be spending the entire film in his swanky drag outfit. Sherlock Holmes 2: Let Watson And Holmes Make Out Already hits theaters December 16.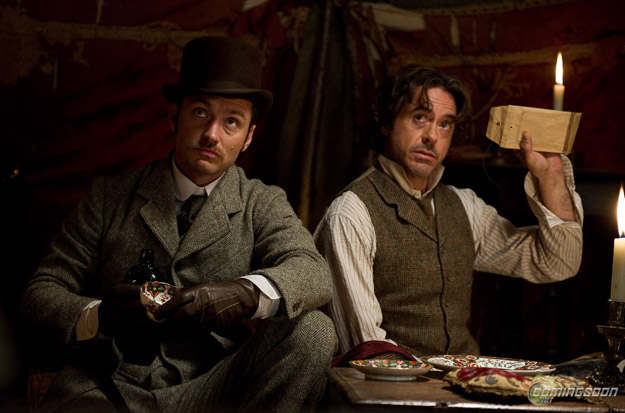 Click the picture below to see more photos of Robert Downey Jr.

Source:ComingSoon