Robert Pattinson Unleashes Seductive Fury in 'Bel Ami' Trailer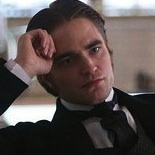 Wow. After watching Robert Pattinson basically grow up in Harry Potter and the Goblet of Fire, the Twilight saga and Water for Elephants, I'd basically give up hope that the twentysomething heartthrob could escape his soft-spoken typecasting and become the next Johnny Depp or Leonardo Dicaprio. But after a few snippets of scenes from his latest indie period drama Bel Ami, I'm starting to wonder if he's been hiding his real talents in order to survive the Twi-hards!
Based on a novel by Guy de Maupassant, Pattinson stars as George Duroy, a cunning former-soldier in 1890s Paris who uses his powers of seduction to sleep his way to the top. Co-starring are Uma Thurman, Kristin Scott Thomas and Christina Ricci as the various women Pattinson romances to their breaking point.
Period dramas always run the risk of becoming stuffy and impenetrable (think most of the Merchant Ivory flicks), but Bel Ami is up in the air. On one hand, the actual plot is difficult to follow (he marries who? sleeps with who? buys his top hat from who?), but on the other, Pattinson looks to extricate serious emotion here—to the point of veins popping on his forehead. That alone may make this one worth seeking out.