Roberto Aguirre-Sacasa To Pen 'Carrie Remake' & Join 'Glee's' Writing Team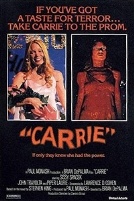 Apparently there is no medium that Roberto Aguirre-Sacasa can't work in. After making penning plays and writing for Marvel Comics, he began to work in television on HBO's Big Love in 2009 and 2010. Not long after that, he combined two of his interests by writing the book for a revival of It's a Bird, It's a Plane…It's Superman, for the Dallas Theater Center and most recently was tapped to re-work Broadway's plagued Spider-Man: Turn Off The Dark. But as of today, he's picked up two projects that will definitely take his career to the next level.
Deadline reports that he's been hired by MGM and Screen Gems to adapt Stephen King's Carrie for an upcoming adaptation. I say "adaptation" and not "remake" because the companies plan on making a film that skews closer to King's original text rather than an update of the classic 1976 Brian De Palma film. I'm a big fan of De Palma's work (especially the early stuff) and believe that there's no possible way for Carrie to be anymore shocking or terrifying than it was in the original film, so I'm a bit wary of this project and always will be even if Aguirre-Sacasa turns in the greatest screenplay ever. However, I'm sure that the scribe will work wonders on his next small screen gig…
The source also notes he's joining team Glee as a co-producer and writer. I actually couldn't be more ecstatic about this. I've watched Glee from day one and have seen its quality dwindle since the beginning. Personally, I put the blame on Ryan Murphy, who seems to rule the writing with an iron fist. Fresh blood is exactly what the program needs to shake things up a bit, and a guy who comes from a background as eclectic as Sacasa's could really turn the tone of the show around and make it edgy and exciting. That's what I hope, at least. As an openly gay man, I'd assume that he's going to focus his energies on the Kurt Hummel/Dave Karofsky storyline, but don't be surprised if you see a lot more pop culture references and comic book geeks showing up in William McKinley High School.
Source: Deadline