What Is Robin Williams' Best Movie Role?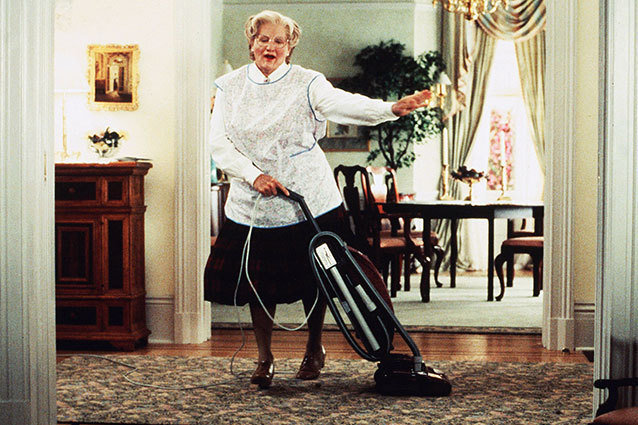 We may be a decade and change out of the golden era of Robin Williams, but the memories remain crystal clear. There was a time that the fast-talking, follicle-ridden funnyman was Hollywood's reigning champion in the realm of broad, wacky comedy.
Yes, this is the Robin Williams many of us remember best: the constantly quipping goofball who'd bounce around a room in a dress in Mrs. Doubtfire, a robot suit in Bicentennial Man, or in animated form as an all-powerful genie in Aladdin, managing celebrity impressions and absurd wordplay all the while. But for some, Williams meant something softer — a father striving desperately to recapture his youth and connect with his son in Hook. A therapist aching to break through the shield of a detached young genius in Good Will Hunting. The man has shown off his dramatic chops too, proving that we have a pretty substantial arsenal from which to choose when considering our favorite Robin Williams movies.
And quite the variety did amount when our staff members chimed with their picks. Williams' appearance in the forthcoming dramedy The Big Wedding had all us all thinking back upon our favorite of his historic turns…
Abbey Stone: Mrs. Doubtfire
Matt Patches: Aladdin
Aly Semigran: Good Will Hunting
Anna Brand and Kate Ward: Jumanji
Kelsea Stahler: Hook
Lindsey DiMattina: The Birdcage
Michael Arbeiter: Popeye
Brian Moylan: Ferngully: The Last Rainforest
Christian Blauvelt: Hamlet
What is your favorite Robin Williams movie role?
Take our poll below. Explain your choice or defend a movie that isn't on the list in the comments below!
Follow Michael Arbeiter on Twitter @MichaelArbeiter
More:
What Is Harrison Ford's Best Movie Role?
Robin Williams Nabs Drama 'Boulevard'
Sarah Michelle Geller Joins Robin Williams' Pilot
---
From Our Partners:


Eva Longoria Bikinis on Spring Break (Celebuzz)


33 Child Stars: Where Are They Now? (Celebuzz)