'Robocop' Remake: 'The Killing's' Joel Kinnaman in Talks to Star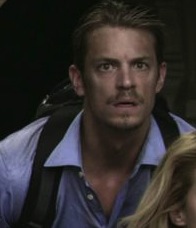 The on again, off again remake of Robocop appears at last to be moving forward, with THR reporting that Swedish actor Joel Kinnaman in talks to star. Kinnaman, who appeared in The Girl With the Dragon Tattoo and TV's The Killing, will take on the title role of a police officer mortally wounded in the line of duty and reborn as a crime-fighting cyborg, a role played in Paul Verhoeven's original 1987 film by Peter Weller.
Last year reports emerged that MGM, the studio producing the Robocop remake, was eyeing the likes of Tom Cruise, Johnny Depp and Keanu Reeves for the lead role. No doubt a dramatic lowering of expectations must have occurred for them to settle on a slightly lesser-known actor like Kinnaman.
Jose Padilha (Elite Squad) is attached to direct. Reports that Vin Diesel is in talks to play E.D. 209 have yet to be substantiated.
Source: The Hollywood Reporter