Dwayne 'The Rock' Johnson Fondly Remembers Playing a 'Part Scorpion, Part Man'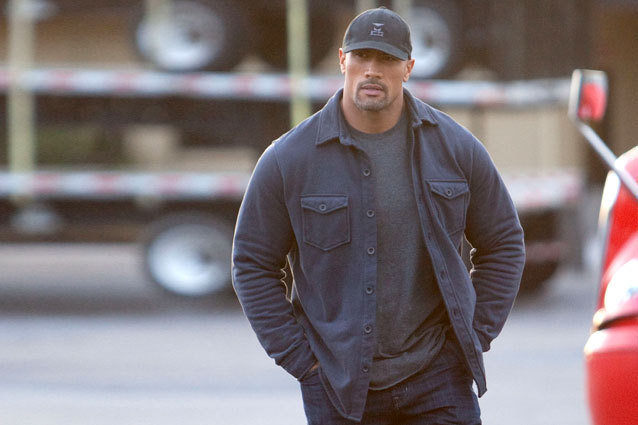 Posters for his films may insist otherwise, but Dwayne Johnson will always be synonymous with "The Rock." His wrestling persona is ingrained in his identity — even when he's starring in a serious drama like his new movie Snitch, it's impossible not to slip and call it a "Rock movie." He entered the pop culture consciousness with his WWF handle, and through butt-kicking movie roles, has only solidified the title.
The fortifying moniker exudes confidence and strength, an essential part of what makes Johnson one of the go-to leading men for the next wave of action movies. It also provides Johnson with his greatest struggle: being considered an actor, not a wrestler-turned-actor.
RELATED: Dwayne Johnson Is One Dirty 'Snitch' — Trailer
Johnson tells Hollywood.com that 10 years ago, he "was taken serious in a way only because I was very fortunate to be successful in another area." People took chances on him, but no one felt safe doing so. "It was a big risk. I didn't have any acting experience. The only thing I knew is that I was willing to put in the work and I wanted to be a good actor."
The fight for legitimacy is Johnson' real life action sequence, a mano a mano fight with filmmakers and audiences to be cast him in roles that require more than just swinging swords and punching bad guys in the face. His search for meaty material made him the perfect collaborator for Snitchdirector Ric Roman Waugh.
"I feel the connection with Ric, for sure," says Johnson. "He's a special guy. What you get with his films is authenticity. Sometimes it gets dirty and gritty. He likes it that way and I like it that way." Working with Waugh, Johnson found an in to a true story that could star a man of his stature, that would also knock him down a few levels in the status department. The actor couldn't wait to dive in. "It was really special to play a man who lived and did something unique and special in terms of going through hell to protect his son. Not only that, but has great vulnerability and great emotion. And not only that, in the face of crisis, in real world living, he crumbles."
RELATED: Dwayne Johnson In 'Teddy Bear' Movie: Hollywood's Next Big Trend Is Incredibly Plush
As Johnson searches for parts that will evolve his career, he continues to go back to his old movies, rewatching and studying them for inspiration. Yes, even the first ones — like his breakout role as the man-turned-monster the Scorpion King in 2002 's The Mummy 2.
"Making the transition… that role — part scorpion, part man — that launched my career. We've all got to start somewhere."
Follow Matt Patches on Twitter @misterpatches
[Photo Credit: Summit Entertainment]
---
From Our Partners:


'Groundhog Day' Cast: Where Are They Now? (Moviefone)


40 Most Revealing See-Through Red Carpet Looks (Vh1)