'Rock of Ages' Trailer: Tom Cruise Sings Bon Jovi, Befriends Baboon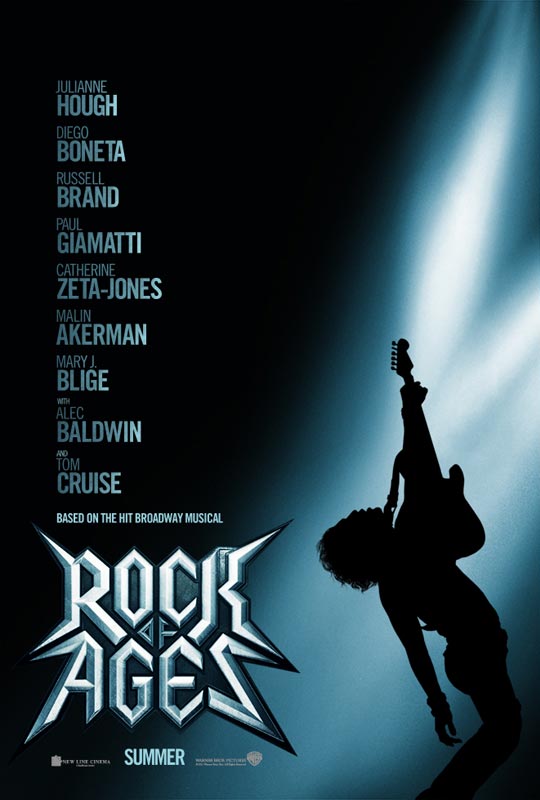 Oh my God, I just threw up.
Where?
In my pants.
Based on that incredible bit of dialogue delivered by esteemed comedic talents Alec Baldwin and Russell Brand, it's clear director Adam Shankman's (Hairspray, Bedtime Stories) latest Broadway adaptation Rock of Ages won't be the…classiest affair — but it could be plain old goofy fun.
Hitting the pinnacle of today's karaoke craze, the musical layers on '80s glam rock tunes over a simple "big dreamer" story, peppered with big names for the I-can't-believe-they're-singing-that factor. Julianne Hough (Footloose) and newcomer 90210's Diego Boneta lead an all-star cast including Baldwin, Brand, Catherine Zeta-Jones, Paul Giamatti, Malin Akerman, Mary J. Blige, Bryan Cranston and, the big get, Tom Cruise, as former rock star Stacee Jaxx. Of all the antics on display in the movie's new trailer, Cruise belting out a wild version of Bon Jovi's "Dead or Alive" is the obvious showstopper. Not even Glee can get that crazy.
Rock of Ages headbands its way into theaters June 15, when all of the lunacy of the '80s Miami rock club scene will be unleashed. Beware of Heyman the Baboon:
Find Matt Patches directly on Twitter @misterpatches and remember to follow @Hollywood_com!
More:
The First Teaser for Rock of Ages
SECOND LINK
THIRD LINK