Roger Ebert To Take a 'Leave of Presence' From the Chicago Sun-Times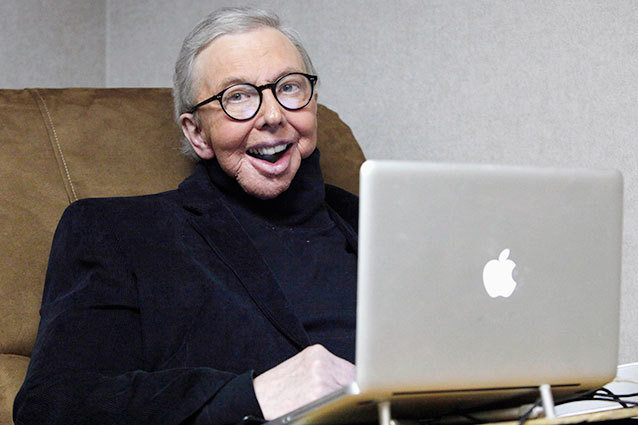 Legendary film critic Roger Ebert might be the only person in the world who takes a break from work, only to do more work than most of us can imagine. In a heartfelt letter to fans, Ebert announced that he is taking "a leave of presence" from the Chicago Sun-Times — where he has worked since 1967 — due to a recurrence of cancer. 
Ebert was diagnosed with thyroid cancer in 2002 and has suffered numerous health setbacks since (including complications from cancer and numerous surgeries that left him without a lower jaw or the ability to speak or eat on his own), but has continued to be one of the hardest-working and most respected, relevant names in the business.
RELATED: Steven Soderbergh Retires: His Career at the Box Office 
While the 70-year-old is going to "slow down", he explained he will "continue to write selected reviews but to leave the rest to a talented team of writers handpicked and greatly admired by me. What's more, I'll be able at last to do what I've always fantasized about doing: reviewing only the movies I want to review." Hey, if anyone has earned that right, it's Roger Ebert. 
In addition to his new venture with the Chicago Sun-Times, the esteemed critic noted that he will be "re-launching the new and improved Rogerebert.com and taking ownership of the site under a separate entity, Ebert Digital, run by me, my beloved wife, Chaz, and our brilliant friend, Josh Golden of Table XI. Stepping away from the day-to-day grind will enable me to continue as a film critic for the Chicago Sun-Times, and roll out other projects under the Ebert brand in the coming year." 
RELATED: Hollywood Mourns and Pays Tribute to Tony Scott 
But, that's not all. Hardly. He is also continuing his film fest Ebertfest, launching a Kickstarter to bring back his TV show At the Movies, participating in the bio-documentary about his life (which is being made by none other than Steve Zaillian and Martin Scorsese), and considering about writing about his health woes in addition to his movie reviews. "It really stinks that the cancer has returned and that I have spent too many days in the hospital," he wrote in the post. "So on bad days I may write about the vulnerability that accompanies illness. On good days, I may wax ecstatic about a movie so good it transports me beyond illness."
Ebert concluded the post with thanking his fans for taking the journey with him and assured, "I'll see you at the movies." You better believe we'll see you there, Roger. 
[Photo credit: Charles Rex Arbogast/AP Photo] 
---
From Our Partners:


40 Most Revealing See-Through Red Carpet Looks (Vh1)


33 Child Stars: Where Are They Now? (Celebuzz)