Hailee Steinfeld Turns 'Romeo and Juliet' into YA Romance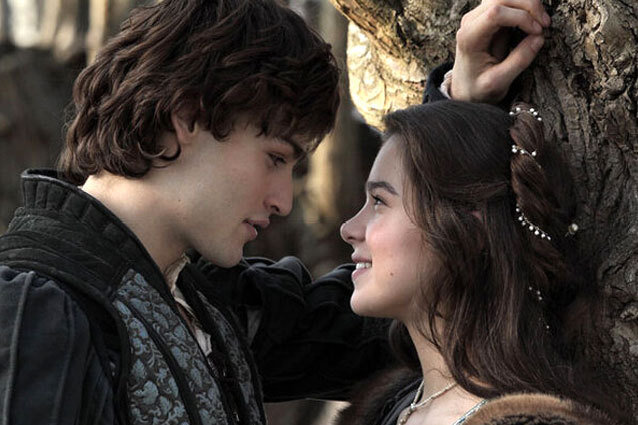 Among the lot of Shakespeare reimaginings, modernizations, parodies, and spin-offs that we've seen come to be at the hand of Hollywood creatives, there still exist some good old fashion revisits to the works of the Bard. Set up for the near future are two retellings of Willy boy's best known love story, Romeo and Juliet. Alongside a high school-set comedy charged with delivering the story from the point of view of Romeo's ex-lover Rosaline (in which Lily Collins is pegged to star), there is another, far more traditional version of the play on the horizon: Director Carlo Carlei and writer Julian Fellowes' Romeo and Juliet, which has released its first trailer.
Stars Douglas Booth and Hailee Steinfeld offer a verbatim delivery of the play's lyrical dialogue… which makes one wonder exactly what facets of the script Fellowes might be responsible for. Though, anyone familiar with his name will instill confidence in the writer's ability to handle some old school Shakespeare with aplomb (Fellowes is responsible for Downton Abbey and Gosford Park, among other highbrow exploits).
We might ask why, exactly, a filmmaker would be interested in rehashing a play in such a well worn format. Perhaps Carlei and Fellowes aren't saying much new at all about Romeo And Juliet with their forthcoming film. But if nothing else, the below trailer does look like it'll return us to our younger days' read through of the admittedly stellar (stop saying it's Shakespeare's worst, contrarians, it's damn good) romantic tragedy. Check out the video and see what you think.
Follow Michael Arbeiter on Twitter @MichaelArbeiter
More:
A Loving Review of Joss Whedon's 'A Midsummer Night's Dream'
Anne Hathaway's Next Prospect: 'Taming of the Shrew'
Haley Atwell to Star in a '10 Things I Hate About You' Sequel That Makes No Sense
---
From Our Partners:


40 Most Revealing See-Through Red Carpet Looks (Vh1)


33 Child Stars: Where Are They Now? (Celebuzz)