Rosario Dawson Is Not Your Typical Femme Fatale in 'Trance'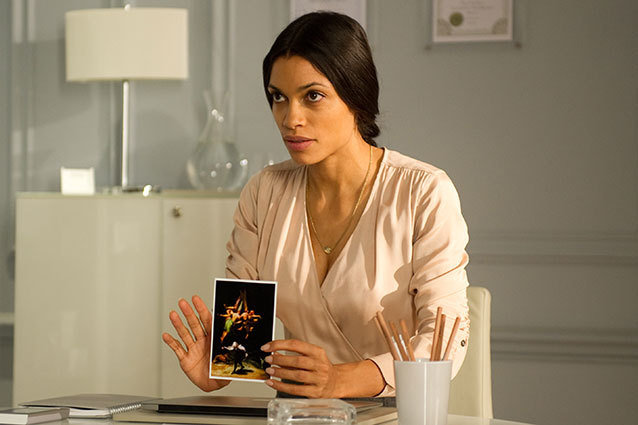 When you have the composure and confidence of a killer, it's hard not to get caught up in all that swagger. It takes a lot of guts to take on a career thief and his amnesia-laden conspirator, but it takes even more to do that and have a whole other game at play. And for Rosario Dawson and her posh hypnotherapist character Dr. Elizabeth Lamb from Danny Boyle's upcoming crime thriller, Trance, the draw was instantaneous. 
"I'm inspired watching her," Dawson explained to us in video you can see below. "I found her to be very courageous." 
And courageous she was, as the not-so-stereotypical femme fatale in Trance tasked with unlocking the secret hiding place of a priceless work of art by Francisco Goya. Only problem is that the whereabouts of the painting, "Witches in the Air," is hidden deep within the mind of debt-addled art auctioneer Simon (James McAvoy) after an amnesia-inducing bump on the head from career criminal Franck (Vincent Cassel) during an art heist gone awry.
RELATED: 'Trance' was Simon's 'Own Personal Horror Movie'
For Dawson — as with all of the main characters in the film — there's a sense of something lurking just below the surface of her character's intentions, and it's a fascinating reveal to unpack. "I got terrified for her," Dawson quipped about Elizabeth's role in the heist, but it seems that cool, calm composure was a challenge for her to play. "I am a fairly out there and outrageous person, [so] I can only hope to be as clear and composed as she is."
The depths her character delves into (metaphorically and otherwise) to find the work of art, provides the viewer with an unexpected look into what really makes her character tick — and yes, it gets intense. But there's a quiet yet commanding ferocity to Elizabeth's demeanor: something that seems vital in her line of work that also benefits her as she walks the very thin line between victory and disaster in the case of the Goya painting.
RELATED: Rosario Dawson Goes Full-Frontal in 'Trance'
It would be entirely too easy to spoil the film's many, many twists and turns, but most interesting of all is the way Elizabeth relates to Simon while he figures out the location of the painting — as well as some things about himself. It's, in a word, complicated. And certainly a far cry from any idea of a femme fatale you might have in your head.
"I wanted to show her humanity and show that wasn't some robot," explained Dawson. "That this wasn't some classic, cliché femme fatale story where she's just really cold and kinda masculine and just aggressive and has no feminity to her. I wanted her to have all of those layers and show what it is to be a woman who is strong and who is not behaving like a man who's behaving like herself and what she looks like when she's strong. You have to connect to the fact that she doesn't know what's happening next." And while Elizabeth is just one of the several unrealiable narrators this story, hers is the one you will be thinking about long after the film has ended. "This is a chess player at work." Checkmate.
Trance opens in theaters Friday, April 5, 2013.
Follow @alicialutes on Twitter
[Photo Credit: Fox Searchlight]
---
From Our Partners:


40 Most Revealing See-Through Red Carpet Looks (Vh1)


33 Child Stars: Where Are They Now? (Celebuzz)